Explore Paris in Winter | Weather, Things to do, Packing Checklist, Travel tips & More
Contents
Popularly known as the City of Lights, Paris is one of the most sought-out tourist destinations in the world. This capital city features several gorgeous architectural sights, art museums, beautiful royal palaces, and a host of restaurants that serve the most delectable French dishes. The capital city is home to the world-famous Eiffel Tower beside the gorgeous River Seine and offers several fun experiences for visitors to enjoy. If you are planning a visit to Paris in winter, then here is everything you need to know.
Why visit Paris in Winter?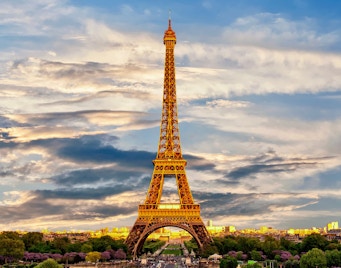 1. Save Big on Flights
Paris is a popular tourist destination which is why flights are always in demand and priced at a higher rate. If you are looking for an affordable trip to Paris, then there is nothing better than traveling in the off-season. Since Paris in winter is the off-season (apart from December), you can get amazing deals and discounts on your flights.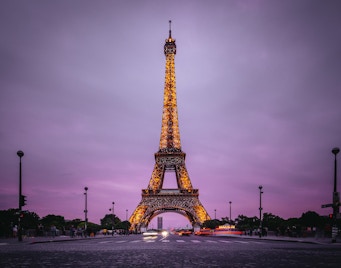 2. Discounts on Accommodations
The city is home to a wide range of boutique hotels and luxury resorts but they can be a little out of budget for most visitors. However, if you plan your trip during the winter season, you can enjoy reduced hotel prices along with many complimentary services and facilities.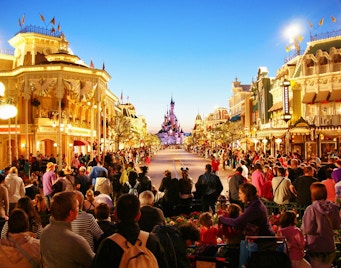 3. Fewer Tourists
Since Paris is a top vacation spot, there are tourists all over the city. But if you want to enjoy the attractions peacefully, then winter is the best time to visit Paris. With fewer people in the city, you can spend quality time at each attraction without rushing too much.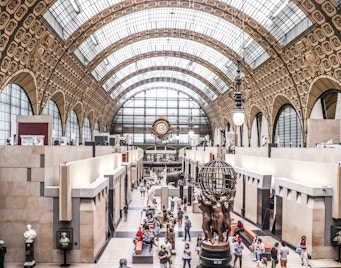 4. Shorter Queues at Attractions
Another great thing about Paris in winter is that due to fewer tourists, there are shorter queues at each attraction. As a result, you can get discounts and offers on the attraction tickets as well and don't have to wait to enter the monuments.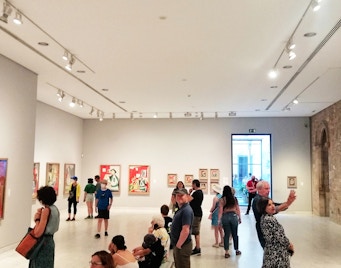 5. Best Time for Museum Hopping
Paris in winter can be a little cold so, one of the best things to do at the time is to go museum hopping. This way, you can learn more about the art and culture of the city while not being subjected to the harsh winter climate.
Best Museums in Paris
What to Look Out for in Paris in Winter?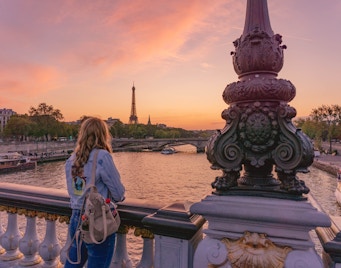 1. Frequent Rains & Chills
In the winter months, Paris experiences only 3 hours of sunshine a day with lots of icy rain. Be prepared to stay indoors for most of the time and wear long jackets and thick sweaters when heading outside.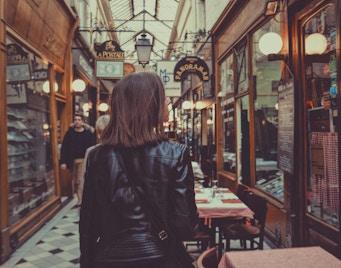 2. Dress Accordingly
The temperatures in Paris in winter can be quite cold, especially if you are not used to it. Wear warm and thick clothes made from wool to keep yourself protected from the cold. Also, do carry an umbrella as it can rain anytime in the winter months here.
What to wear in Paris during winter?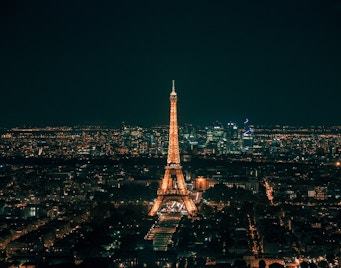 3. Shorter Visiting Hours
One of the major disadvantages of visiting Paris in the winter season is that the opening time for attractions is shorter. As the days are shorter, the monuments open later and close up early in the evening. So, you will need to plan your days well to cover all the important sights in the city.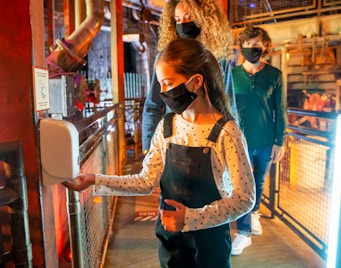 4. Spend Time on Indoor Activities
Due to the harsh winter temperature, Paris is not suitable for outdoor activities during the winter months. But there are many indoor activities that guests can enjoy. You can explore the museums, go on a seine dinner cruise, watch a moulin rouge performance, etc. to enjoy the trip to Paris while staying warm and cozy.
What to Wear?
If you plan to visit Paris in winter, you should start packing all your warm clothes, jackets, and sweaters to stay warm in the cold weather. Make sure to keep scarves and gloves to wear as it can be extremely cold in Paris. Also, do take a windcheater or a raincoat to protect yourself when it rains or snows in Paris in winter.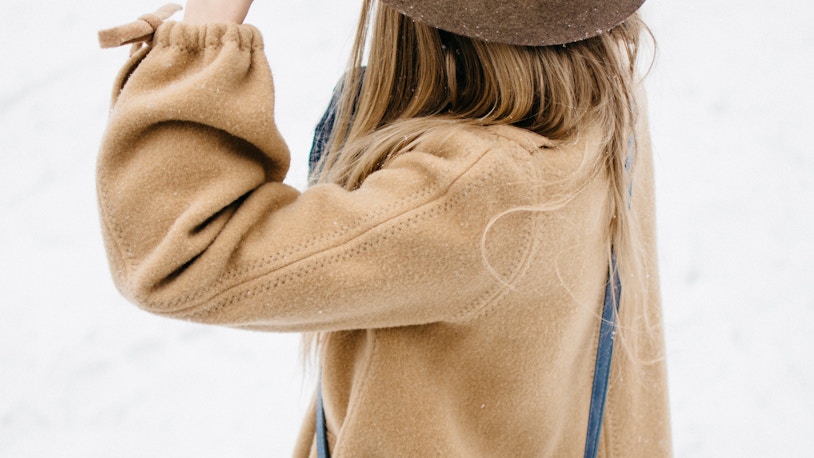 What to Wear in Paris in Winter?
Since Paris has harsh winters, you should wear warm woolen clothes that will keep you warm and cozy during the cold weather.
Wearing layers is a great way to keep warm.
Jackets and sweaters can be a good idea to wear during winters.
You can wear jeans, pants, skirts with woolen stockings, etc. in Paris in winter.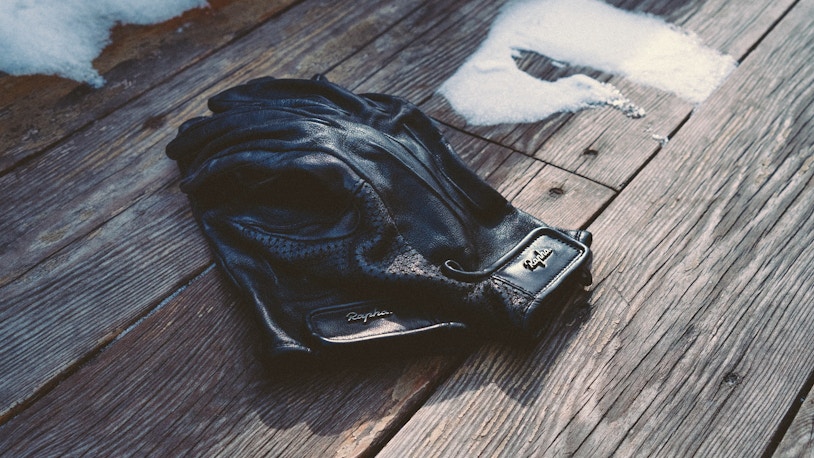 What to Pack for Paris in Winter?
Sweaters and Tops - Cable-knit sweaters, cardigans, and fleece tops are the best choices of clothing for Paris in winter. Do carry long-sleeve t-shirts as well to wear casually underneath the coat and sweaters.
Pants - It would be best if you pack pants and heavier slacks to combat the cold of Paris in winter.
Carry a pair of waterproof, leather boots for your trip to Paris.
Umbrellas and raincoats are a must as it rains a lot in Paris during winter.
Winter Coat - A big and warm winter coat is essential to keep warm in Paris in winter.
Hats, gloves, and scarves.
Events in Paris in WInter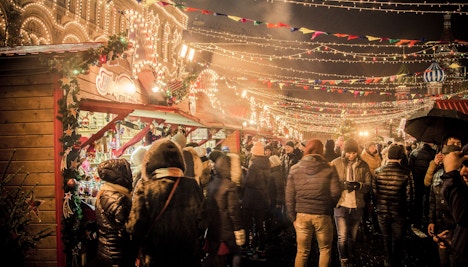 Christmas
Date: 25 December
One of the most magical festivals to attend in Paris is Christmas. The entire city is lit up with sparkling decorations and there are many Christmas markets to explore. Attend the amazing Christmas concerts, visit the church services, and enjoy a delicious meal while reveling in the holiday spirit of the city. Don't forget to attend the special Eiffel Tower concert on Christmas Day New Year Celebrations
Date: 31 December
Another great day to celebrate in Paris is the New Year's eve when the city of Paris sparkles with light and there are concerts to attend throughout the city. You can visit the Eiffel Tower or attend a Moulin Rouge performance, there is no shortage of events to attend in Paris on the New Year's eve.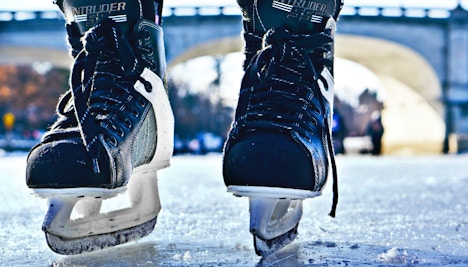 Ice Skating Rinks
Date: December - January
Once it starts snowing in Paris, several ice rinks are set up around the city before Christmas and stay in place till the end of January. You can enjoy skating in front of the Eiffel Tower, at the Trocadero ice rink, or at the Hotel de Ville ice rink.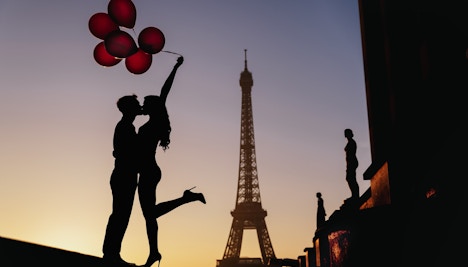 Valentine's Day Celebrations
Date: 14 February
Paris, popularly known as the 'City of Love', is one of the top places to celebrate the annual Valentine's Day. There are many amazing events and special offers for couples to enjoy throughout the city on this day. Whether you choose to go on a romantic Seine cruise or indulge in a luxurious dinner at the top of the Eiffel Tower, there is something for everyone to enjoy during Valentine's Day in Paris city.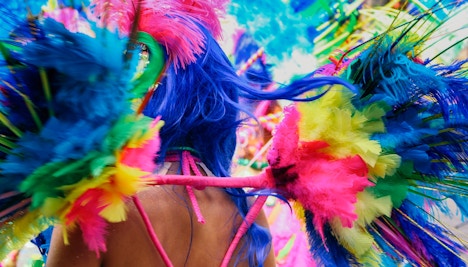 Mardi Gras Parade
Date: 19 February 2023
One of the biggest unmissable winter events in Paris is the Mardi Gras Parade. This is a free event that takes place in the 20th arrondissement where the Parisians march together. It begins from Place Gambetta and ends at Place de la Republique while covering places like Boulevard de Belleville, and so on. It is a fun event featuring colorful masks and costumes. Fete du Beaujolais Nouveau
Date: 17 November 2022
Every year on the third Thursday of November, Beaujolais Nouveau - red wine is released throughout France. There are several parties and festivals held throughout Paris where visitors can gather and sample this new batch of wine.
Know more
Know Before you Visit Paris in Winter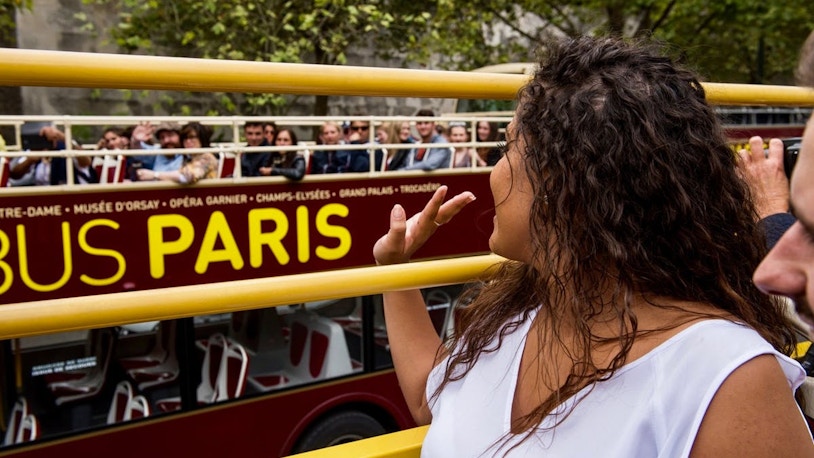 Getting Around Paris in winter
By Bus: If you are looking for a cheap and convenient to travel around Paris, then the city buses are a good idea. They connect different attractions in the city and are quite easy to use.
By Metro: One of the quickest ways to get around Paris is by using the metro system which features 16 lines connecting the entire Paris city.
By RER: Paris' RER system acts both as a subway and a train system that can be used to reach different parts of Paris. You can also use it to reach Disneyland Paris and the Paris International Airport. 
By Taxi: There are over 20,000 taxis available on the streets of Paris that can be used to explore the city. However, taxis in Paris are a little expensive so use them sparingly.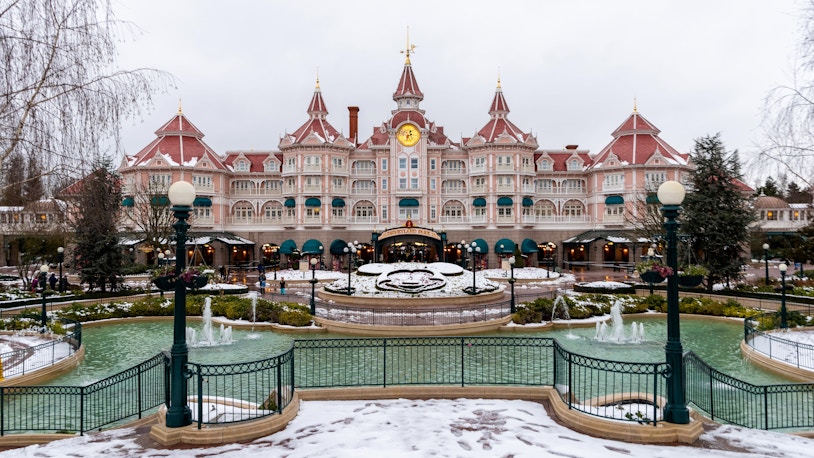 Where to Stay in Paris in Winter
During the winter season, many hotels in Paris reduce their prices due to the low tourist numbers. This can be a great opportunity for budget travelers to enjoy discounts during their stay in Paris in winter.
Budget Hotels: International Youth Hostel, Generator Paris, Jo&Joe Paris Nation, Le Village Montmartre, St. Christopher's Inn Paris Canal
Mid-range: Hotel Acropole, Hampton by Hilton Paris Clichy, Hotel Victor Masse, Eden Opera Paris Hotel, Hotel Mercure Paris Alesia
Luxury Hotels: Hotel Bienvenue, Hotel Splendid Etoile, Hotel Balzac, Hotel de NELL, Hotel De Sers, Hotel Le Walt Paris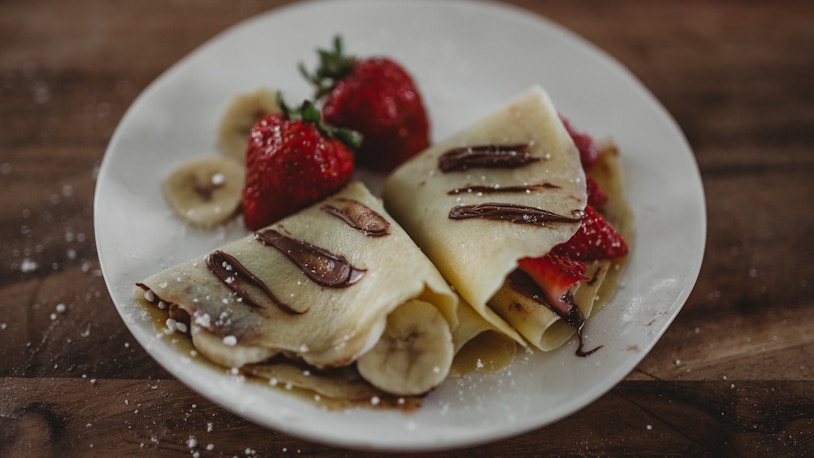 What to Eat in Paris in Winter?
Pain Au Chocolat - One of the top breakfast items to enjoy in Paris is Pain Au Chocolat. It is a buttered croissant with chocolate filling and is a great budget-friendly snack.
Macarons - Of course, your Paris trip is incomplete without eating macarons, a French specialty. Made from meringue-based cream, this sweet confectionery is available in several colors and flavors all over the city.
Crepes - Crepe is the all-time best street food to try in Paris and can be found in every street of this city. Nutella crepe is a must when you are exploring Paris.
French Onion Soup - One of the top dishes to try in Paris is a bowl of French Onion soup. This recipe featuring caramelized onions, cheese, and croutons is comfort food to keep you warm in Paris in winter.
Frequently Asked Questions About Visiting Paris in Winter
Is winter a good time to visit Paris?
Paris can be visited throughout the year but winter might not be the best time to visit as the temperature is extremely cold. However, you can enjoy great deals on flights and hotels and can attend several amazing events in Paris in the winter season.
How cold is Paris in winter?
Paris' temperature can be quite cold during the winter months, with the averages reaching around 3°C. But if you are used to the cold weather then this is a great time to experience snowfall in Paris and enjoy everything that this city has to offer.
What is the average temperature in Paris in winter?
The average temperature in Paris in winter is around 3 - 11°C
Is it sunny in Paris during winter?
In winter, Paris experiences a short daytime with an average of 9 - 11 hours of daylight. Also, there are more chances of rainfall and snowfall in Paris in winter so there are fewer sunny days.
Is it windy in Paris during winter?
Yes, Paris is windy and cold during the months of winter. The average wind speed is 11mph with January being the windiest month in Paris.
Does it snow in Paris during winter?
The temperature in Paris in winter is quite cold which may lead to snowfall, especially in the months of January and February.
What clothes to wear in Paris in winter?
It would be best to wear thick, woolen clothes in Paris in winter to keep yourself warm and cozy. Also, make sure you wear jeans, pants, and jackets to stay covered against the cold and windy weather of Paris.
Is Paris cheaper in winter?
Yes, Paris is comparatively cheaper to visit in the winter months than at the other time of the year. The hotels and flights offer reduced rates to the tourists and there are several discounts and offers to enjoy shopping as well.
Is Paris expensive to visit?
Paris is a little expensive to visit but there are many ways to reduce the cost. Make sure you book your accommodations, flights, and attraction tickets in advance and find the best deals online. Furthermore, winter is off-season for visiting Paris so you can enjoy reduced prices on everything at this time.
What are some things to do in Paris in winter?
Some popular things to do in Paris in winter are visiting the Eiffel tower, exploring the Louvre Museum, enjoying a dinner cruise on River Seine, and so on.
Paris is a relatively safe city to travel but make sure you keep your belongings safe as petty thefts are common in the city. Keep your essentials such as passport, documents, wallet, etc. locked in a locker when you go out to explore the city.
What can I see in Paris in winter?
In the winter, you can visit several amazing attractions in Paris such as the Eiffel Tower, Saint Chappelle, Louvre Museum, Center Pompidou, and Disneyland Paris.
What is closed in Paris in the winter?
Most things are open in Paris in winter but the attractions are generally closed one day a week. So, make sure you research before planning your day. Most of the monuments stay closed on 25 December and 1 January so, plan your itinerary accordingly.
What adventure activities can I do in Paris in winter?
In winter, you can enjoy many fun activities in Paris such as a dinner cruise on the Seine River, ice skating, or spend a day enjoying the exciting rides at Disneyland Paris.
What are the free things to do in Paris in winter?
There are many free things to do in Paris in winter such as visiting the Christmas Market, watching the Eiffel Tower twinkle at night, enjoying a walk beside the Seine River in the afternoon, and more.