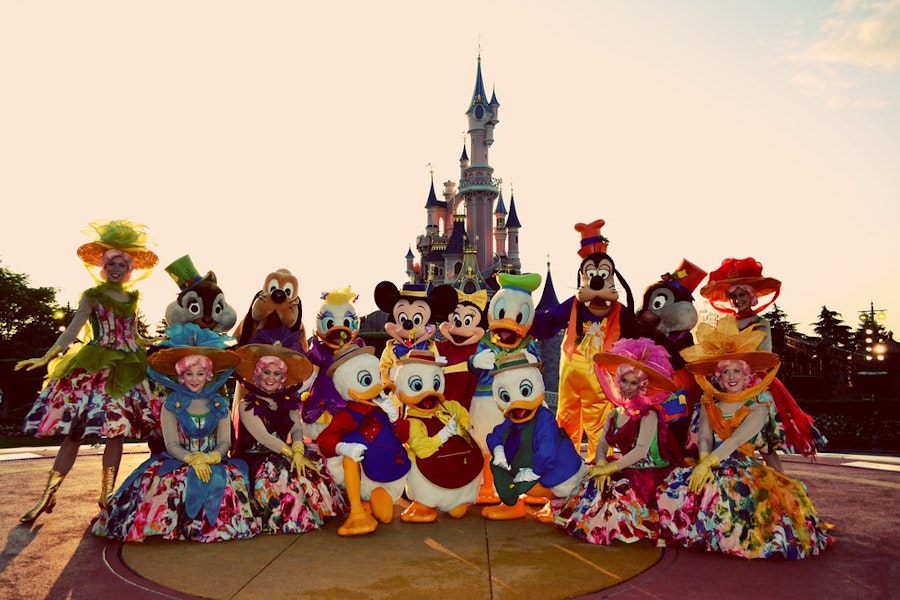 All The Best Disneyland Paris Shopping Options
No trip is complete without picking up some memorabilia and gifts! Visitors will find that soon they are spoilt for choice shopping at Disneyland Paris. Immortalize your Disney heroes with a figurine or themed memento from one of the many shops and stores in Disneyland Paris. 
Where to buy Disneyland Paris merchandise?
Disneyland Park Paris
1. Bixby Babies: On Main Street U.S.A, Bixby Babies offers a riot of brightly-colored merchandise. This Disneyland Paris shop is designed with an antique touch to give off a vintage vibe. You can buy anything from themed apparel to funky caps and Simba masks and everything in between at Bixby Babies.
2. Boardwalk Candy Palace: Chocolate fudge, caramels and sweet pralines are only some of the star sellers at Boardwalk Candy Palace. Disney Fudge is definitely worth a taste and keep a lookout for some delicious, freshly-made treats in the window display. If you're lucky, you could be walking home with a Mickey-shaped cookie! 
3. Disney & Co.: Where all your dreams come true! Disney & Co. is the one-stop-shop for everything Disney; from merchandise and costumes to plush toys for cuddling. The ceiling reminds one of a clear, blue sky as you wind your way along the aisles, picking out your favorites from a host of exclusive paraphernalia. This Disneyland Paris store caters to everything Disney, including the famous Minnie Mouse ears. 
4. Constellations: A themed merchandise store that is targeted towards visitors who hold an affinity for outer space, Constellations in Discoveryland is an excellent gateway to all things aeronautical. You will find Buzz Lightyear's laser gun and alien-themed toys, and even some starry-night lights for your bedroom as they sell homeware as well. This Disneyland Paris store has been designed with mesmerizing lights to replicate a Disney-inspired galaxy adding to your overall shopping experience.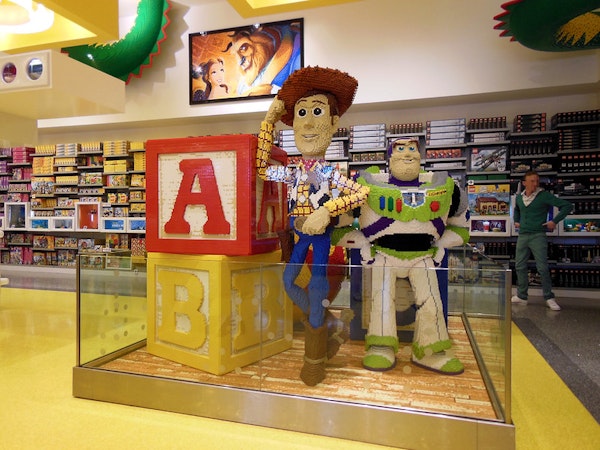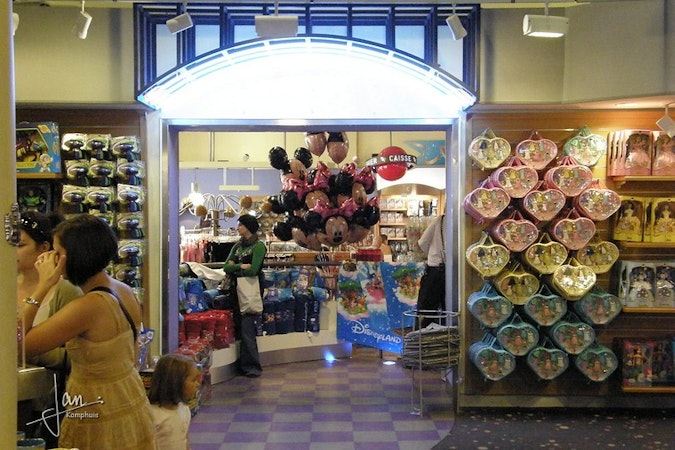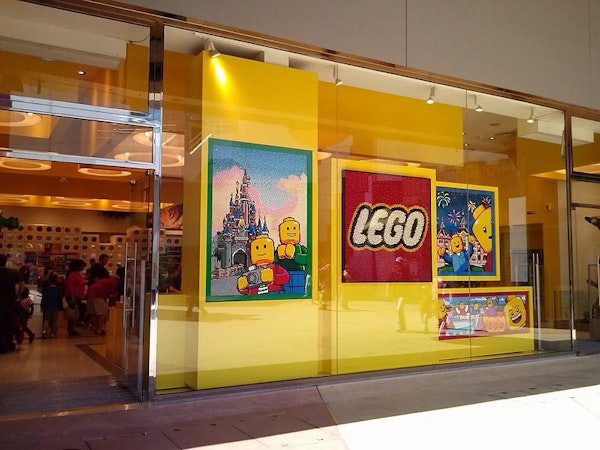 Walt Disney Studios Paris
1. Les Légendes d'Hollywood: Frozen, Cinderella, Lilo & Stitch, Moana and so many other favorites come alive at this Disney Hollywood store. Targeted towards little fans, you can buy a plush toy of your favorite Disney character, interactive games, apparel and multiple other collectibles here. This massive Disneyland Paris shop is located in the Front Lot of the park.
2. Walt Disney Studios Store: As the name suggests, the Walt Disney Studios Store is home to memorabilia for everything Disney has ever produced. From toys representing popular movies and characters to smart pins and cool magnets, the store has a wide assortment of options to choose from. 
3. Chez Marianne (Souvenirs de Paris): When at Disneyland Paris, make sure to stop by Chez Marianne. A souvenir shop specifically dedicated to the popular Ratatouille Disney movie, you can find everything between French memorabilia and sweet tarts here. Visitors often purchase artwork and pop culture collectibles at this Disneyland Paris shop. Chez Marianne is situated in Toon Studio and is designed with an art-deco style.  
Disney Village
1. The Disney Gallery: A store for art collectors and lovers of the Disney multiverse, The Disney Gallery a must-visit. This store blends everything Disney and art, giving visitors an array of shopping options to choose from; purchase art, exclusive designer soft toys and even create your own masterpiece with Art of Demand.  
2. Boutique Planet Hollywood: If you want your own lightsaber or a wand to beat them all, Boutique Planet Hollywood should be your pitstop. Visitors will find life-like props from all blockbuster Disney movies. For those who are planning a themed party anytime soon, this is the place to be. 
3. World of Disney: The store to rule them all, World of Disney is easily the finest Disneyland Paris shop. It carries the largest collection of Disney paraphernalia and souvenirs imaginable. World of Disney has been designed like a magnificent palace and sells a variety of Disneyland Paris merchandise, including costumes, art, collectibles, apparel and more.
Disneyland Paris Tickets