Everything To Know About The Sainte Chapelle Stained Glass Windows
Contents
Sainte Chapelle welcomes an average of 900,000 visitors per year; its design and cultural significance in Paris have established a firm footing in history. The first thing one would notice on entering this site is its iconic stained glass windows. At first glance, apart from its gothic architectural style, you would not notice anything unusual about the building; once you step into the upper chapel, prepare to be mesmerized by the beautiful ceiling-to-roof stained glass windows. If the myriad of colors on the glass weren't enough to add to their appeal, keep an eye out for the various biblical narratives depicted on them!
Sainte Chapelle Stained Glass At A Glance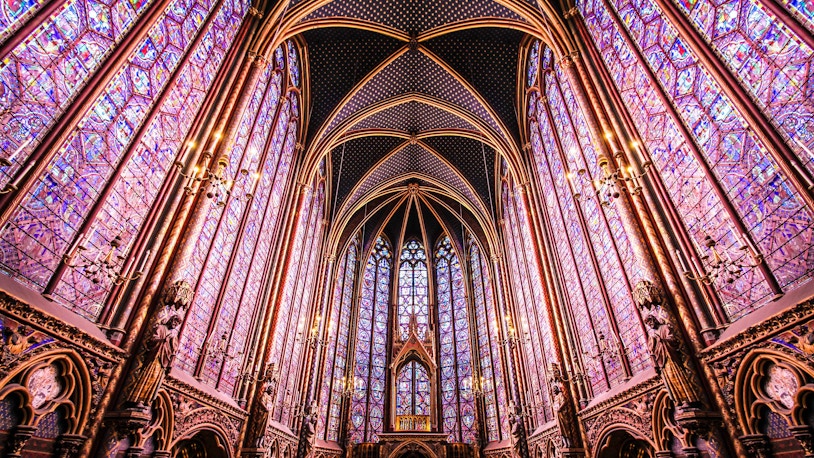 Sainte Chapelle, built in the 13th Century, was commissioned by King Louis IX of France. The construction which began in 1242 was completed in 1248.
The building represents a Gothic architectural style designed to house the relics of the Passion of Christ
You can find the stunning 15 stained-glass windows, measuring 15 meters in height, on the first floor. However, the cherry on top is the massive stained glass windows, measuring about 600 square meters, that covers the second floor.
The Sainte Chapelle stained glass consists of just five colors, blue, red, green, purple and yellow. Each window depicts 1,113 separate narratives from the old and new testament.
The chapel has gone through restorations twice. Once when it was damaged during the French Revolution and later when it went under an extensive renovation in 2008, costing a total of €10 million.
Book Sainte Chapelle Tickets
Sainte Chapelle FAQs
How many stained glass windows are there in the Sainte Chappelle?
There are 15 stained glass windows within the Sainte Chappelle, depicting about 1,113 separate narratives taken from the old and new testament.
What is the duration of a Sainte Chapelle tour?
It takes about 30 minutes to an hour for you to complete your visit inside the chapel. It is highly recommended to book your tickets in advance to avoid overcrowding at the venue.
Is photography of the stained glass windows permitted at Sainte Chapelle?
While photography is allowed, flash photography and the use of tripods is not permitted.
Is a tour of the stained glass windows part of my Sainte Chapelle tickets?
Yes. All Sainte Chapelle tickets provide access to the stained glass windows.
Where are Sainte Chapelle stained glass windows located?
The stained glass windows are located on the first and second floors of the chapel, both available to see on a tour of Sainte Chapelle.