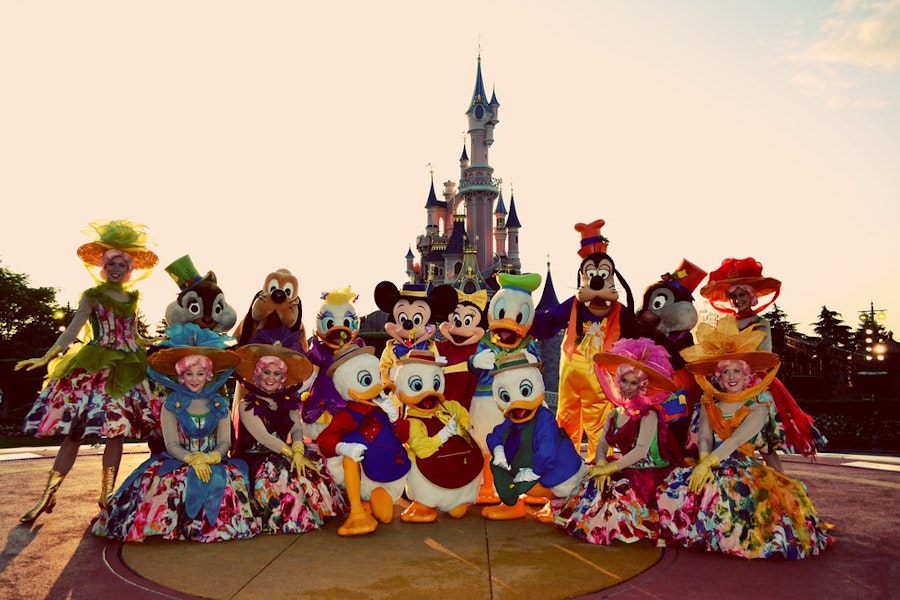 Disney Village Paris: Entertainment, Dining, Shopping and more
Alice's Adventures in Wonderland have nothing on the exciting attractions, entertainment and events that await you at Disney Village at Disneyland Paris. Disney Village Paris, a section separate from the two theme parks, is a paradise for visitors who desire a wholesome Disney experience.
With interesting dining options, shops selling Disney memorabilia, fantastic fireworks display and concerts by Mickey Mouse himself, Disney Village Paris is a dream factory for kids and grown-ups.
Entertainment at Disney Village Paris
1. Concerts at Billy Bob's: With a tex-mex buffet, a flash of country music and a hint of pop blues, a visit to Concerts at Billy Bob's cannot be missed. The concert hall and bar is distributed over three floors with a stage, a café called 'La Grange' on the second floor and a dance floor. Salsa lessons, Elvis tributes and a Texas-vibe will keep you engaged for hours on end. 
2. Disney Village® Web Radio: Tune into the Disney Village Web Radio! It spins everything from jazz to Disney Classics across Disney Village Paris. The Web Radio keeps you up-to-date with events at Disney Village Paris, including musical shows and live music. You can tune in anytime to a symphony of sounds as you wind your way through the magical streets of Disneyland Paris. 
3. Gaumont Cinema: Animated blockbusters, romantic comedies, fantasy movies and other hit Disney films grace Gaumont Cinema in Disney Village Paris. The neon signs, galactic interiors and old-school shows lend a classic 80s vibe to the 15 screens at Gaumont Cinema. With the newly-installed IMAX Laser system, your movie-watching experience is sure to be elevated to another level. Popular films now showing include Frozen II, Star Wars, Little Women, The Addams Family and Jumanji among others. 
4. PanoraMagique: Have you ever wanted to go on a hot air balloon ride? PanoraMagique offers a panoramic, 360-degree view of Disneyland Paris from one of the world's largest hot air balloons. The balloon ride takes you across a 20 km stretch of awe-inspiring views. The hot air balloon is docked by Lake Disneyland is an environmentally-friendly, certified attraction at Disney Village Paris.
Events at Disney Village Paris
1. Halloween: There is no better place than Disney Village Paris to spend Halloween. Watch as the streets come alive -- or not -- with spooky monsters, pumpkin lanterns lining the sidewalks, spider webs and eerie music in the background. You can also watch the Halloween parade and wave to your favorite ghost! The air is electric with mischief and mayhem, sure to be a treat for kids and adults alike. The event is held on 31 October at Disney Village Paris. 
2. Christmas: The Disney Village Paris Christmas bash is celebrated from December to 5 January with the lighting of the Christmas tree and the inauguration of the exuberant Christmas Market. Mulled wine, gingerbread cookies and cinnamon cakes make endless rounds in a flurry of excitement. The atmosphere is infectious with festive décor, music and surprises for visitors. Shop, eat and drink, and spend Christmas at Disneyland Paris with your favorite Disney friends.  
3. New Year: If you're planning to do something different for New Year's, Disney Village Paris is just what you need. At the magical New Year's Eve bash, ring in the celebration with spectacular fireworks, live concerts, curated food menus and the famous parade. New Year's Eve extravaganza is something to look forward to.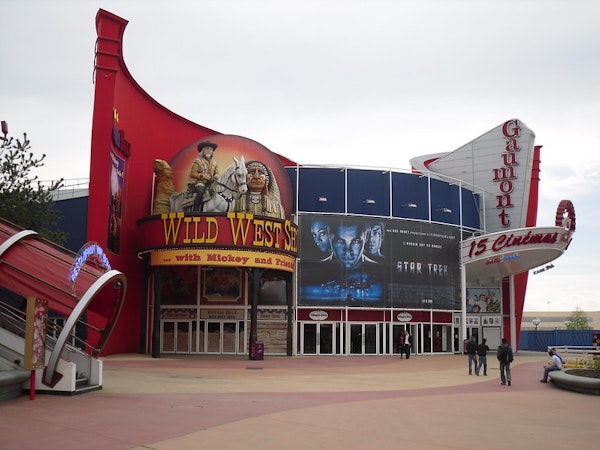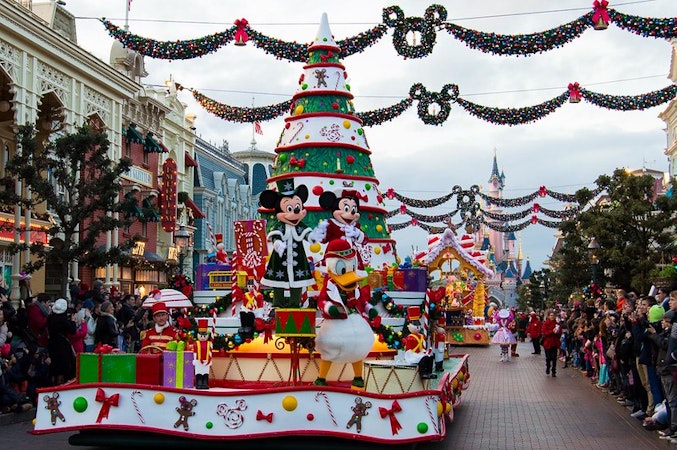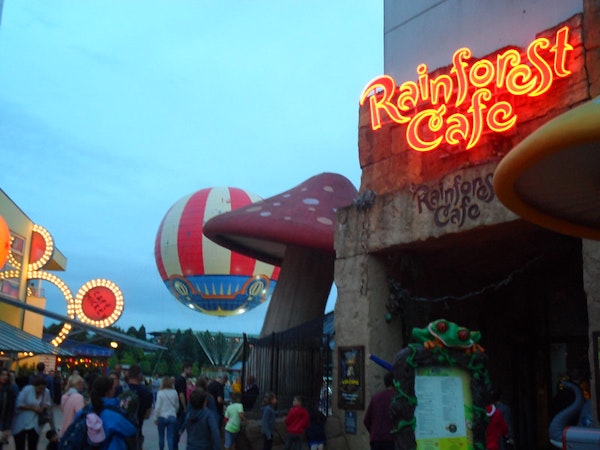 Dining at Disney Village Paris
1. Café Mickey: Try and make a reservation before heading to the popular Café Mickey at Disney Village Paris. The scrumptious Italian flavors are complemented with a clear view of Lake Disney. Café Mickey is a fun way to interact with your favorite Disney characters while you enjoy delicious food. Take pictures with Mickey Mouse who makes the rounds to ensure your dining experience is a wholesome one. 
2. Rainforest Café®: A dining experience at the Rainforest Café is straight out of an adventure book. It is designed to represent the Amazonian jungles with a glittering night-sky, tropical jungle vibe and waterfalls. The café caters to guests with special dietary needs as well. You can also pick up some memorabilia on your way out. 
3. Planet Hollywood®: As the name suggests, Planet Hollywood pays homage to classic American films with diner-style food and memorabilia significant to Hollywood. Props include authentic costumes from blockbuster films like King Kong while the sky is lit with stars in a planetarium-inspired vibe. After a wholesome meal, you can make your way to the souvenir shop to buy something as a keepsake. 
Shopping at Disney Village Paris
1. World of Disney: World of Disney is an all-encompassing store that is here to bring all your childhood dreams to life. With their wide assortment of souvenirs and memorabilia, visitors can purchase Disney ears, apparel and other hip merchandise including Elsa costumes for your little ones. It is easily one of the best places to buy presents for your loved ones. 
2. The LEGO Store: Who doesn't love a grand old LEGO set? And if it is one from Disneyland, all the better! The LEGO Store in Disney Village Paris has individual figurines and complete sets from movies like Star Wars and of course, the LEGO movie. If it is Batman you want to build and keep on your office desk, then go for it! The store is a delightful experience for everyone who visits. 
3. The Disney Gallery: With their Art on Demand program, The Disney Gallery is not just an art store where you can buy artwork and collectibles; instead, you have the chance to create your own unique masterpiece that you can take home as a memory of your adventures at Disneyland Paris.
Practical Information
Timings
Disney Village Paris is open daily from 07:30 AM. Closing timings vary based on the season. 
Getting There
The Disneyland Paris Shuttle takes you right to the entrance of Disney Village Paris. The bus runs every 12 minutes from 06:30 AM to 11:00 PM. If you are staying at a Disneyland Paris hotel, the shuttle service is free of charge otherwise there is another payable shuttle that will take you to Disney Village Paris. 
Tickets
Disney Village does not have a separate entry ticket and is free. To know more about Disneyland Paris tickets, go here.
Services/facilities available
For visitors with infants, Disney Village Paris has baby changing stations in the washrooms near the Sports Bar
ATMS are available all around Disney Village Paris
For visitors with pets, you may drop off your furry friends at one of the animal care centers without a worry
Disneyland Paris