All the Best Disneyland Paris Restaurants
Disneyland Paris restaurants serve not just international delicacies but take you on a thematic journey with all the popular Disney characters.
The best restaurants at Disneyland Paris
One can spot this rustic Restaurant des Pirates even with an eye patch. This mysteriously-lit tavern is the best place to discuss your loot over a steaming plate of Creole. Delve deep into the world of Pirates and enjoy exotic seafood, delicious steak and buttery chicken breasts at this tavern.
Jazzy, vivacious and truly American, Annette's Diner brings back the golden age of Rock 'n' Roll. This diner is brought to life with giant, greasy burgers, thick shakes and hot dogs served by waiters on roller skates. You can't leave this place without having one of their classic burgers with a side of crisp french fries. One of their highly-recommended dishes is chicken wings.
Fans of the Disney movie  Ratatouille will instantly recognize the theme of this Disneyland Paris restaurant. Visitors will be seated at tables that look like jam lids, tea tins and human dinner plates. Don't forget to check the best of Chez: seasonal salad and cut beef, Brie de Meaux. The main specialty of the restaurant is the ratatouille. The cafe also brings to you a variety of lip-smacking desserts.
4. Plaza Gardens 
Go back in time to the Victorian Era by dining at the Plaza Gardens. A regal buffet with the choicest selection of starters, main course and desserts will leave you satiated. Try the salmon and chicken, both cooked to perfection, along with their ricotta-stuffed pasta at this beautiful Pavillion. The cherry on top? Your favorite Disney Characters come visit you during your breakfast at this Disneyland Paris restaurant. Don't leave without trying out the desserts!
The Genie has finally fulfilled our wish! Head to Agrabah on your flying carpet and indulge in authentic Middle Eastern food in the little alleys of the Arabian Bazaar. Brought to you from the streets of Agrabah are the delectable Kebabs, Couscous and Hummus. All those with a sweet tooth should try Turkish Baklava at Agrabah Cafe. Be prepared, because Aladdin might show up anything minute to pinch a bite of your bread!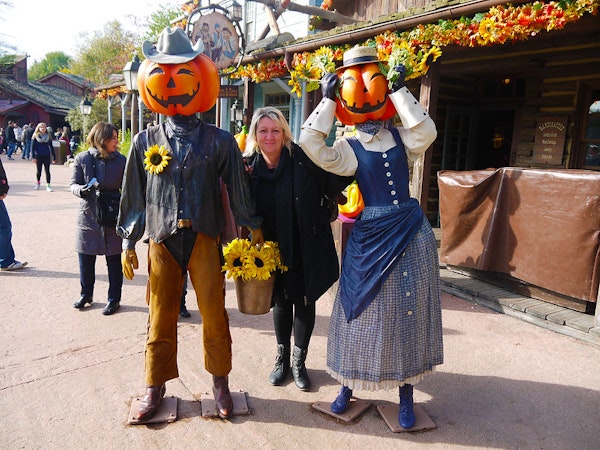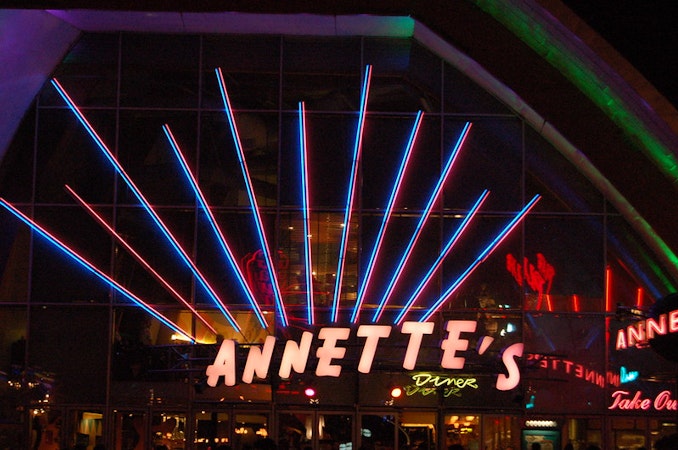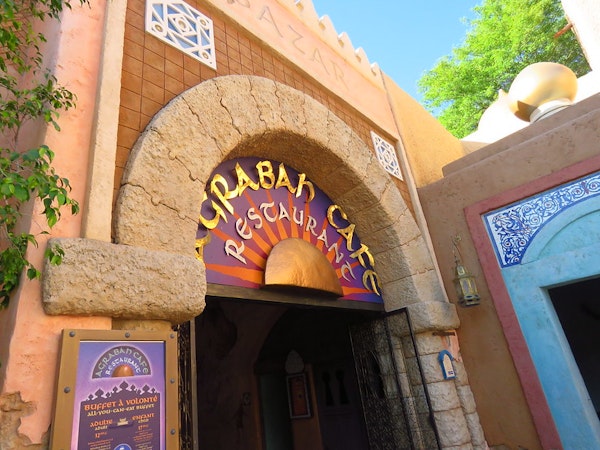 A meal at the Rainforest Cafe is more than its sizzling fajitas, cheeseburgers, shrimps and ribs. The ambiance is designed to make you feel like you've stepped right into the depths of the Amazon. Kids are sure to be entertained by the Rainforest Cafe's fish tanks, animatronic animals and of course, its famous Volcano Ice Cream Sundae. At this Disneyland Paris restaurant, you can also buy plush animals, trinkets and other memorabilia. 
Planet Hollywood is a paradise for film lovers The decor is full of popular characters and props from blockbuster Hollywood movies. Perfectly complementing the ambiance is the restaurant's excellent food menu. Try the tender BBQ Ribs that comes with assorted fries, nachos garnished with guacamole, sour cream, melted cheese and beans, and their mouth-watering brownies. All the while, popular music from your favorite films will keep your head bobbing the entire time.
Five Guys brings to you 250,00 varieties of authentic American Burgers. Created from fresh products, each burger at Five Guys is bursting with flavor. You can also customize your burger by choosing from15 additional toppings at no extra cost. Going hand-in-hand with your burger are the perfect companions: crispy, hand-cut fries and a thick milkshake. 
Inventions is one of the best places to eat at Disneyland Paris due to its unusual decor; you can find a unique, out-of-the-box technological creation from the Victorian Era here. A perfect contrast to the classic ambiance is the contemporary cuisine at Inventions. Make sure to have their lamb which is a real treat, while their seafood is a must-try as well.
Bella Notte pays tribute to the classic Disney movie, Lady and the Tramp. This romantic bistro serves delicious Italian delicacies. Enjoy some authentic pizza and pasta while at Bella Notte. Special Mickey Mouse pizzas are specially curated for the kids! Don't leave without trying out their famous Tiramisu.
Delve into the adventures of Miss 'Diamond' Lil at the extravagantly designed Lucky Nugget Saloon. This bar is designed with a grand bejeweled tone that serves as the perfect background for its Tex-Mex menu. Enjoy refreshing drinks and sundaes with some crunchy burgers and ribs at the Lucky Nugget Saloon at Disneyland Paris. 
Welcome to Pride Rock! Step right into the African savannah and feast on some mouth-watering kebabs, salads and rice dishes. You can book the popular The Lion King Lunch and meet your favorite Disney characters. This Disneyland Paris restaurant is a must-visit for fans of Simba and friends.