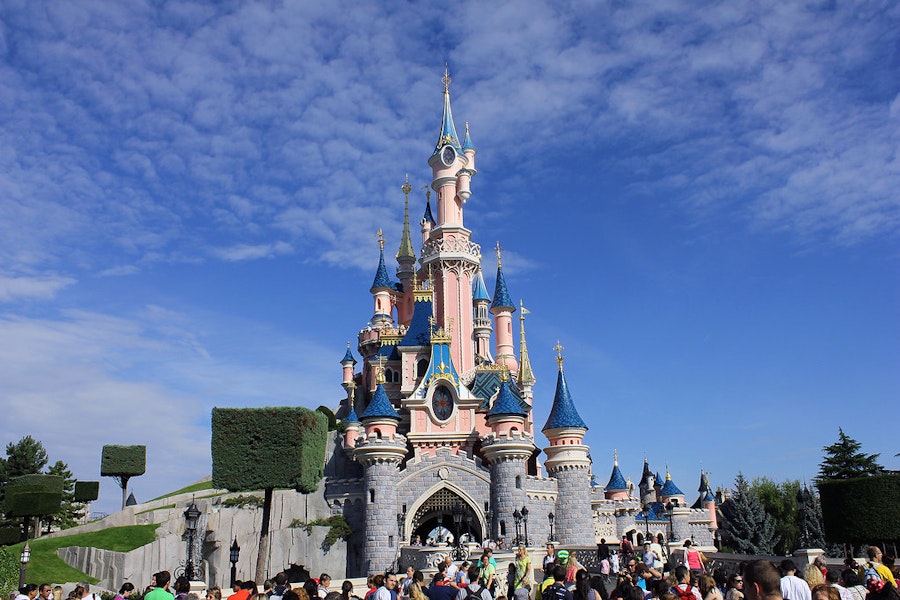 Disneyland Park Paris: A World Full of Magic, Fun and Love
Disneyland Park Paris is a celebration of everything Disney, providing an escape into the world of fairy tales and magic. With over 50 unique attractions, Disneyland Park Paris has rides and attractions for everyone in the family to enjoy.
Walt Disney Studios Park, on the other hand, offers you the opportunity to discover the magic behind Disney films and shows with unique studio lots.
Disneyland Park Paris
In 1992, Disneyland Park Paris opened with its original name: Euro Disneyland Park. The first of the two parks built at Disneyland Paris, this theme park was designed and built by Walt Disney Imagineering. Spread across 140 acres of land, Disneyland Park in Paris is the second-largest Disney park in the world.
With the stunning Sleeping Beauty Castle as the focal point, Disneyland Paris Park houses five exciting themed lands:
Main Street, USA: Serving as the main entrance boulevard into the park, this area is themed after small-town America in the early 20th Century. This themed area was partially inspired by Walt Disney's home — Marceline, Missouri — and boasts a train station and authentic Victorian architecture. At the end of the boulevard is the iconic Sleeping Beauty Castle, marking the end of Main Street, USA.
Frontierland: This land is themed after the American Old West mining town of Thunder Mesa, set in the 19th Century. The beautifully-designed set includes life-like desert and wilderness landscapes, enormous rock formations, stunning frontier architecture and even a river. Two riverboats, Molly Brown and Mark Twain circle the river, and a special meet-and-greet area featuring characters from Toy Story is set up at Woody Roundup.
Adventureland: Featuring a beautiful blend of themes from the Caribbean, India and North-Africa, Adventureland is the perfect representation of the diverse world we currently live in. The highlight of this themed land is the lush landscape, giving visitors the experience of being in an actual remote jungle.
Fantasyland: With the towering Sleeping Beauty Castle as its entrance, Fantasyland invites you into a world of fairy tales. Themed after a storybook village, Fantasyland showcases architectural designs from several European villages. A special attraction here is the giant ferris wheel that is often decorated seasonally.
Discoveryland: As the name suggests, Discoveryland is a little different from the rest. It is themed to showcase the visions of renowned European thinkers and explorers, including H. G. Wells, Leonardo da Vinci and Jules Verne among others. The design of this land used Jules Verne's vision of the future as inspiration.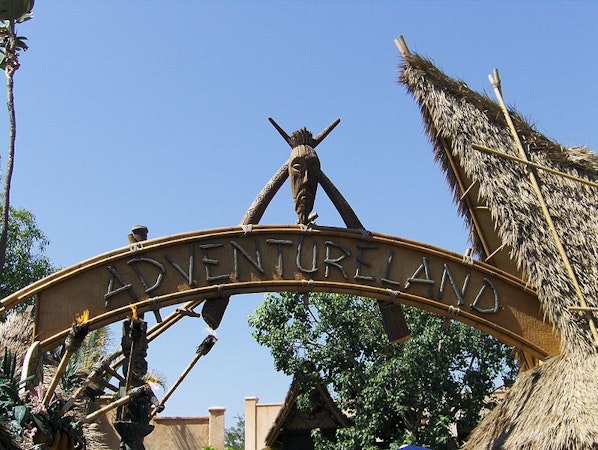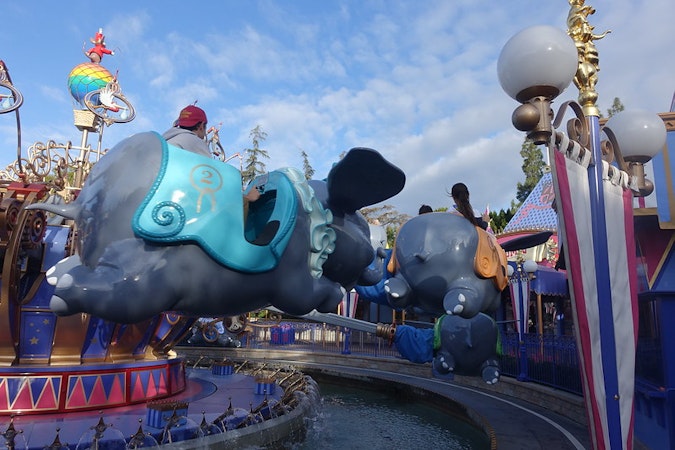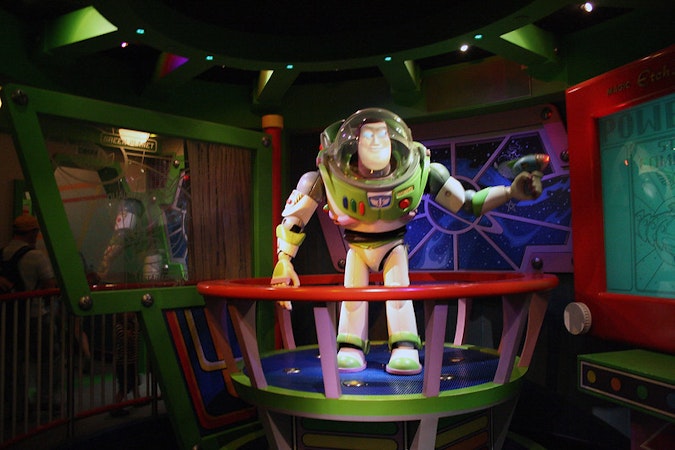 Disneyland Paris Park Attractions and Rides
Disneyland Park Paris Rides
Mickey's Philhar Magic: Enjoy the magic of Disney animation in this 4D experience that features unforgettable Disney songs and stories
'It's a small world': Embark on a dreamy world tour as dolls from around the world sing and dance to the famous tune of 'It's a small world'!
Adventure Isle: Explore this mystical island with your friends and family and try to uncover the secrets behind Skull Rock
Alice's Curious Labyrinth: Have you always wanted your own adventure in Wonderland? Explore this maze and watch out for the Cheshire Cat-sized smile that awaits you around every corner
Big Thunder Mountain: Thrill-seekers will love this ride! Hold on tight as the runaway mine train takes you and your family around a haunted mountain
Buzz Lightyear Laser Blast: Journey to the corners of space with Buzz Lightyear and help him defeat Zurg in this intergalactic laser-shooting game
Discovery Arcade: A starkly different experience awaits you at Discovery Arcade. Here, learn about the golden age of invention with scale models of some of the 19th Century's greatest creations
Dumbo the Flying Elephant: Climb onto the beloved flying elephant and take to the skies to enjoy a stunning view of the entire theme park
Indiana Jones and the Temple of Peril: Race in and out of the shadowy and mysterious jungle ruins on a runaway wagon. Remember to hold on to your hats!
Pirates of the Caribbean: Based on the famous movie series, this ride allows you to journey with Captain Jack Sparrow and his infamous and experience adventure on board his ship
Disneyland Park Paris Entertainment
Disney Performing Arts Programme: Bob your head to some exciting performances by underground artist groups looking to showcase their talent and passion
An Encounter with Darth Vader: Feel the Force as you meet the iconic and dreaded Sith Lord himself, Darth Vader, in a galaxy far, far away 
Disney Princesses: A Royal Invitation: Make your fairytale princess fantasy come true by spending some memorable moments with a Disney princess in her enchanting surroundings
Disney Stars on Parade: Lookout for your favorite Disney characters in this star-studded parade that is conducted daily at Disneyland Park Paris
The Royal Sparkling Winter Waltz: A holiday season special, this memorable princess waltz features performances by some of the most iconic Disney princesses
Disneyland Park Paris Dining
Auberge de Cendrillon: This fairytale restaurant brings Cinderella's story to life with fabulous French cuisine. The decor features stone archways, house flags and beautiful stained-glass windows
Au Chalet de la Marionnette: Enter Pinocchio's world at this chalet-style eatery which serves scrumptious delights with a Bavarian touch
Captain Jack's - Restaurant des Pirates: Craving exotic seafood and Creole cooking? This pirate-themed restaurant is the perfect option for you
Exclusive Character Dining at Disneyland Paris: Ever wanted to have a meal with your favorite Disney character? Now you can! Enjoy exclusive dining options at Disneyland Park Paris
Restaurant Agrabah Café: Inspired by the glorious world of Aladdin, this restaurant specializes in Moroccan and Middle Eastern buffet-style meals
Disneyland Paris Tickets