Find Out All You Need To Know About Disneyland Paris | A Magical Wonderland Near the City of Love
Contents
Dreams come to life in the heart of Europe's most magical destination. Read on to discover the history, attractions, and everything you need to know about Europe's only Disneyland— Disneyland Paris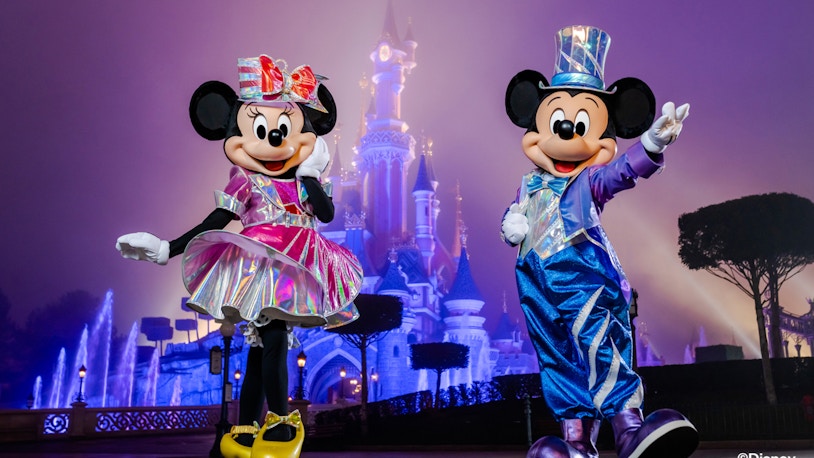 What is Disneyland Paris?
Go beyond daydreaming about meeting your favorite Disney characters and experiencing all things Disney, with Disneyland Paris. A perfect spot for family daytrips it consists of two theme parks including fantastic rides, attractions, and shows, where every detail has been meticulously attended to. Established in 1992, this theme park is the only Disneyland in Europe.
The beautiful Sleeping Beauty Mansion and other Disneyland Park attractions honor Disney classics. In Walt Disney Studios Park, discover all that there's to know about how your favorite Disney movies were created and all the magical behind the scenes trivia.
Quick Facts About Disneyland Paris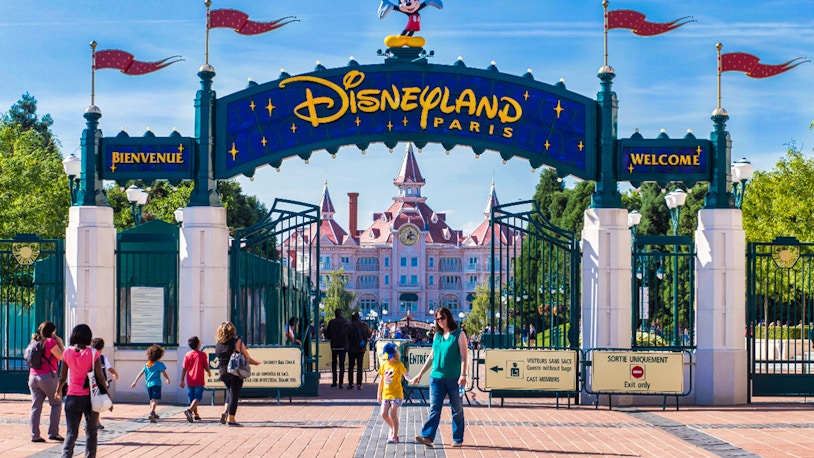 Official name: Disneyland Paris
Original name: Euro Disney
Date of opening: 12 April 1992
Location: Chessy, in France, 32 km east of Paris | Find on Map
Owned by: The Walt Disney Company
Operated by: Disney Parks International
No. of visitors per year: Approx. 14.99 million visitors annually
No. of rides and attractions: 50
Theme park area: Spans approximately 22.3 km²
Why is Disneyland Paris a Must-Visit?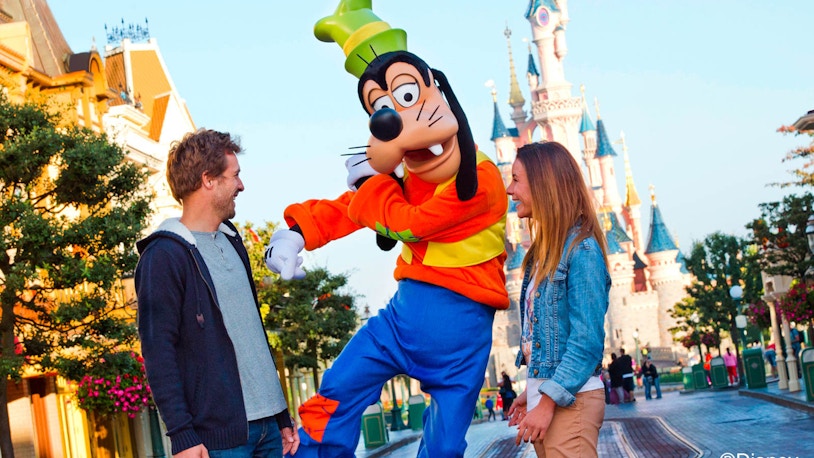 Something for Everyone: Disney World is a great place to take a break, not only for the kids but for the adults as well! 
Dazzling night show: The evening or night show is the highlight of the amusement park. Every year, thousands of people come for the express purpose of seeing the night performance. 
The amusing rides: Space Mountain, Pirates of the Caribbean, and the Tower of Terror are just a few examples of the amazing rides in Disneyland Paris. 
The spectacular lights: Disney has produced a brand-new, spectacular spectacle with state-of-the-art visual effects including pyrotechnics and projected light shows.
2 theme parks in 1 day: With little planning, you can experience the best in a single visit. If you plan ahead and know which rides and events you wish to see, you can get a lot done in one day at both parks.
Plan Your Visit to Disneyland Paris
Where is Disneyland Paris Located?
What is Disneyland Paris Opening Hours?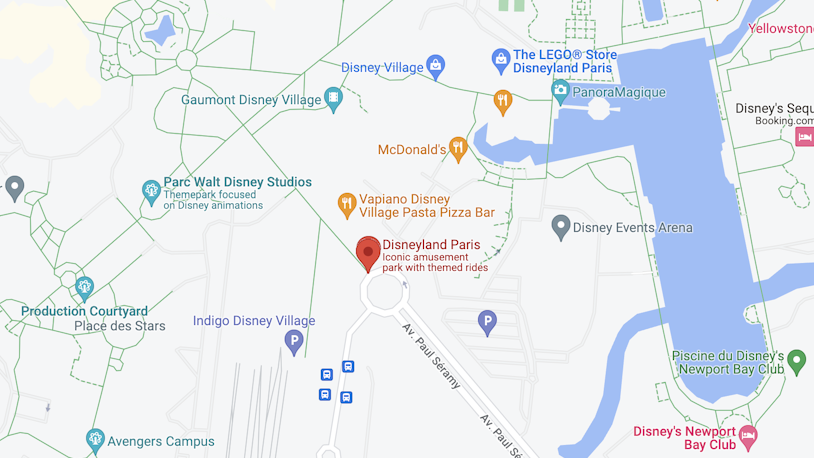 Address: Disneyland Paris, Boulevard de parc, 77777 Chessy. Find on Map
Distance from Paris: 44 km
Getting There
By Train - Take the Line A train from Paris to the Marne-la-Vallée/Chessy railway station. It's right at the entrance of the enchantment, a short 2-minute stroll from the train station to the entrance of the Disney Theme Parks.
By Bus: You can opt for shuttle bus services along with park tickets. There are also express buses departing from Gare du Nord, Opera, and Chatelet bus stations in Paris.
By car: Taking the 'Metz / Nancy' on the A4 or A104 (la Francilienne) motorway will lead you straight to Disneyland Paris. 
Getting to Disneyland Paris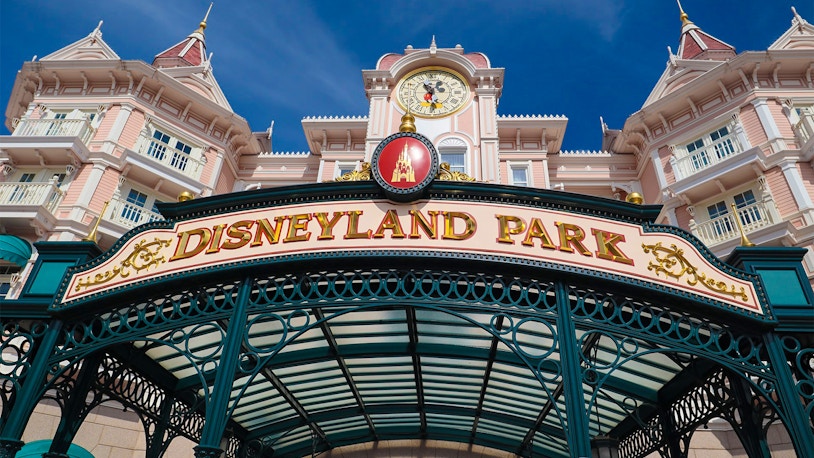 Although Disneyland Paris is open throughout the year, seasonal opening hours change often. Make sure to double-check the hours of operation before your trip, since they are only announced a few months in advance.
Disneyland Park
Timings: 9:30 AM to 11 PM; Daily
Extra magic time: from 8.30 AM to 9.30 PM
Walt Disney Studios
Timings: Walt Disney Studio Park: 9:30 AM to 10 PM; Daily
Extra magic time: from 8.30 AM to 9.30 PM
Disney Village
Timings: 7.30 AM to around 12 AM
Disneyland Paris Opening Hours
Disneyland Paris Zones
Twenty miles northeast of Paris is where you'll find Disneyland Paris, near Chessy. Its two theme parks, Walt Disney Studios and Disneyland Park are just across from one another, transporting you to a wondrous and fanciful world with its rides and attractions. Here's what you can expect inside Disneyland Paris: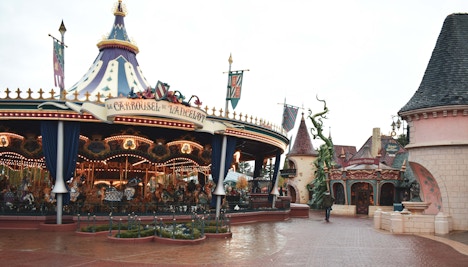 Disneyland Park Paris
Disneyland Park, built in 1992, was the first and is currently the most popular of the twin parks at Disneyland Paris. Main Street USA, Frontierland, Adventureland, and Fantasyland are some of the must-visit highlights inside the park. The rides and attractions are based on classic Disney tales and hence you'll see your favorite Disney Princesses and other classic characters like Mickey Mouse, Goofy, Winnie the Pooh, and adventurous characters like Jack Sparrow, Peter Pan, etc.
Visit Disneyland Park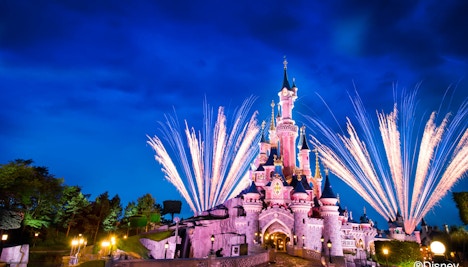 Walt Disney Studios Park
Walt Disney Studios Park opened to the public in 2002 and is located right opposite Disneyland Park in Marne-la-Vallée, France. Here you'll see characters right out of Disney and Pixar movies. The Walt Disney Park at Disneyland Paris is the resort's second theme park and an ode to the movie-making and special effects industries as well as fully immersive computer animation. Toon Studios and Front Lot are some of the must-visit highlights inside Walt Disney Studios parks.
Visit Walt Disney Studios Park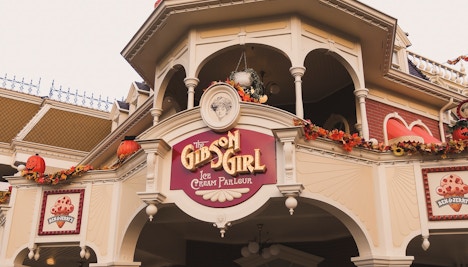 Disney Village
The Disney Village in the French town of Marne-la-Vallée is a retail, eating, and entertainment complex next to Disneyland Paris. Opening on April 12, 1992, under the name Festival Disney, this attraction occupied over 18,000 square meters of space inside the walls of the then-named Euro Disney Resort. The greatest Landscape and Pin Trading are some of the must-see attractions inside Disney Village.
Visit Disney Village
Unmissable Rides at Disneyland Paris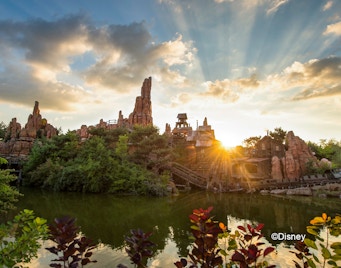 Big Thunder Mountain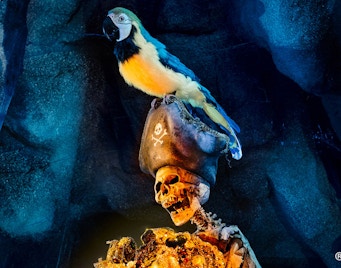 Pirates of the Caribbean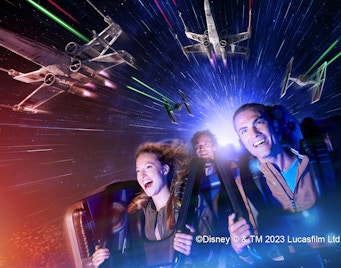 Star Wars Hyperspace Mountain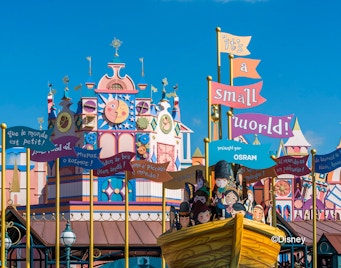 It's a Small World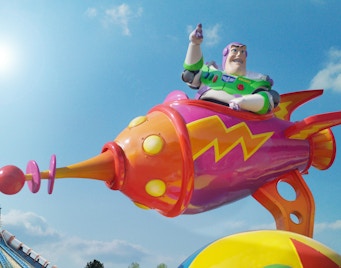 Buzz Lightyear Laser Blast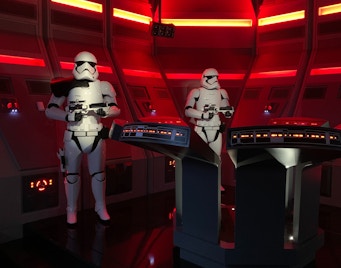 Star Tours: The Adventures Continue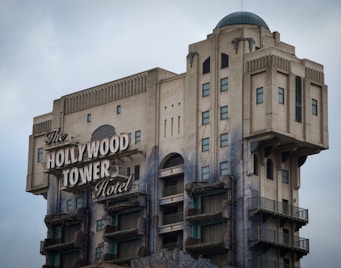 The Twilight Zone Tower of Terror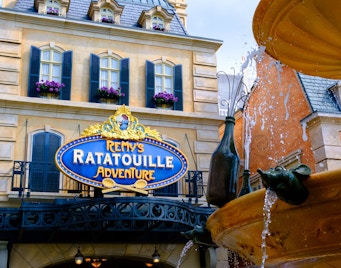 Ratatouille: The Adventure
Indiana Jones and the Temple of Peril
Things to Do at Disneyland Paris
Book Disneyland Paris Tickets and Tours
Combo (Save 12%): Disneyland® Paris Tickets + Seine River Cruise
More details
Frequently Asked Questions About Disneyland Paris
Q. What is Disneyland Paris?
A. Disneyland Paris is a resort and theme park for everyone who wishes to enjoy the magic of Disney in real life. It is an exciting experience with many rides, attractions, shows, and parades along with options for a comfortable stay.
Q. Where is Disneyland Paris?
A. Disneyland Paris is located around 32 km from the French capital, close to the town of Chessy.
Q. What is Disneyland Paris famous for?
A. Disneyland Paris is famous for bringing Disney magic to life with a French touch. It is a must for every Disney, Pixar, or Star Wars fan. A first-ever 4D presentation of "Ratatouille: The Adventure" is also available there.
Q. Why should I visit Disneyland Paris?
A. All Disney enthusiasts should visit Disneyland Paris. Experience thrilling coasters, dine at themed eateries, take in live performances, and mingle with some of your beloved Disney characters.
Q. How do I book tickets to visit Disneyland Paris?
A. You can book Disneyland Paris Tickets online. It is one of the top attractions in France and is always crowded so make sure you book much in advance.
Q. How much does it cost to visit Disneyland Paris?
A. Tickets to Disneyland Paris start at only €62.
Q. Who built Disneyland Paris?
A. Disneyland Paris was designed and constructed by Walt Disney Imagineering.
Q. Who owns Disneyland Paris?
A. The Walt Disney company owns the park.
Q. When did Disneyland Paris open?
A. Disneyland Paris opened its gates to visitors in 1992.
Q. What's inside Disneyland Paris?
Q. What are Disneyland Paris opening hours?
A. The parks' opening hours remain 9.30 am to 9 pm on weekdays, and from 9.30 am to 10 pm on weekends
Q. When is the best time to visit Disneyland Paris?
A. To escape the crowds, we advise going to Disneyland Paris during the week.
Q. What are the famous rides and attractions inside Disneyland Paris?
A. When guests visit Disneyland Paris, they may choose from among fifty different rides and attractions. Phantom Manor, Sleeping Beauty Castle, and Disney Illuminations are a few popular attractions.
Q. Is it worth visiting Disneyland Paris?
A. Your trip to Paris Disneyland will be one you'll never forget if you're a die-hard Disney fan!
Q. How many days do I need to cover Disneyland Paris?
A. In order to see everything at Disneyland Paris, you need to plan on spending at least a couple of days there. Staying at Disneyland Paris hotels for two nights is a great option for anyone planning a vacation.