12 Interesting Facts About The Magical World Of Disneyland Paris
Table of Contents
Since it initially opened in 1992, Disneyland Paris has been the only Disney theme park on the European continent. In terms of tourist volume, it is one of Europe's top attractions, drawing in tourists of all ages from all corners of the globe. Adventureland, Main Street U.S.A., Fantasyland, Frontierland, Marvel Avengers' Campus, Toon Studio and other classic Disneyland zones inspired by exclusive American themes are present here.
However, the French park is unmistakably distinct from its Disney counterparts across the world. Read ahead for an overview of the interesting facts about Disneyland Paris.
Interesting Disneyland Paris Facts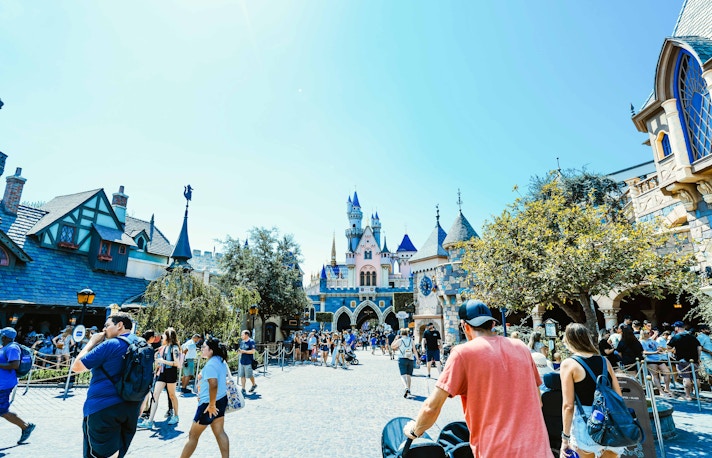 1. A System Of Tunnels Runs Beneath
The protagonists need to be able to quickly cross from one country to another, and if there were plenty of people in the way, they'd never make it. To address this issue, a system of tunnels was constructed underneath the grounds of Disneyland Paris. Sometimes, a number of important and heavy pieces of machinery are transported via these tunnels so as to keep the 'picturesque' scenery of Disneyland, above the ground, intact.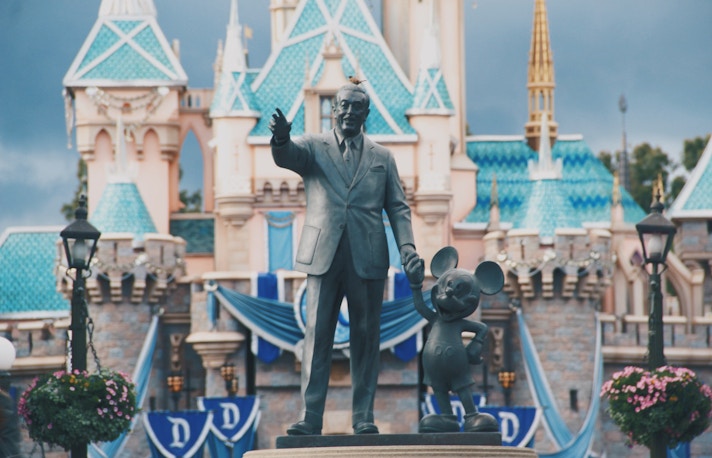 2. 'Mickey Mouse' Scattered Throughout The Theme Parks
If you look closely enough, you may see Mickeys disguised in the buildings' designs or even in something as minute as the rust spots on a treasure box. You might not first recognize them as such but it's a mystery how many there are.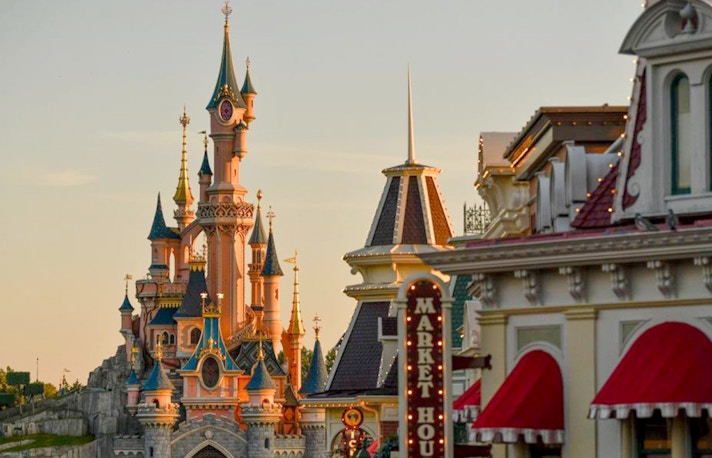 3. Know What The Inhabitants Are Whispering About
An absolute jewel of Main Street, this vintage phone booth is a rare sight indeed. You can find it in two different places at the infamous Market House Deli, and picking it up will let you listen to a humorous cycle of "genuine" chatty phone conversations. If you're ever at Disneyland Paris, be sure to tune in to the whole, hilarious loop to learn all about the behind-the-scenes magic that makes Disneyland Park a true piece of art.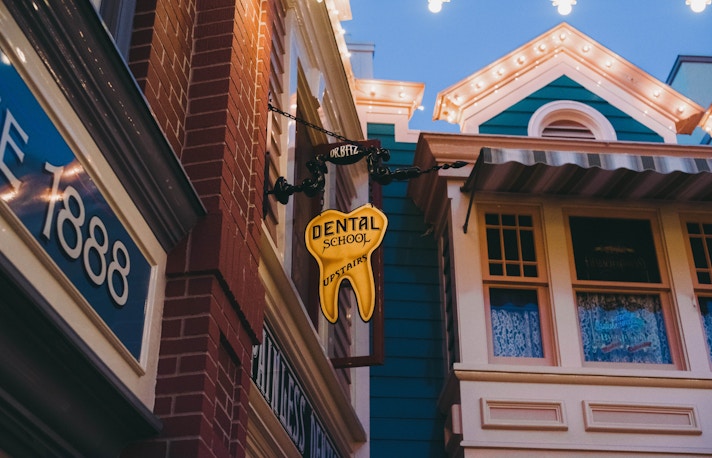 4. The Names On The Posters Belong To Real People
Jeff Burke, Tom Morris, Tim Delaney, Eddie Sotto, and Chris Tietz are just a few of the names you'll notice on a poster in the Main Street dentist's window.  Except those names aren't chosen at random. They are responsible for developing the areas known today as Discoveryland, Frontierland, Fantasyland, Main Street, USA, and Adventureland.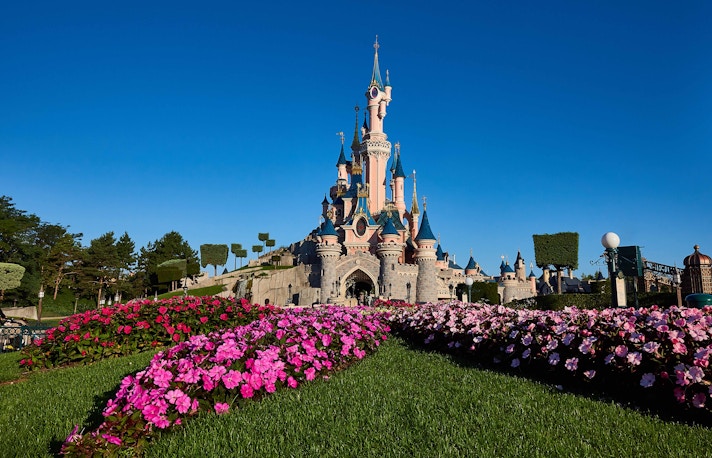 5. Each Castle In Disneyland Paris Is Unique
You could assume that American castles would be finer since they came earlier, but the Disneyland Paris castle is more complex and dreamlike because castles were already an integral part of European history. Normandy, France is home to the stunning Mont Saint-Michel, a true architectural marvel. Despite its distance from the French capital, this castle served as the inspiration for Sleeping Beauty Castle in Disneyland Paris. There is 24 karat gold leaf on the towers of Sleeping Beauty's castle and on the roofs of the buildings in Small World. That's why it's so stunningly gorgeous.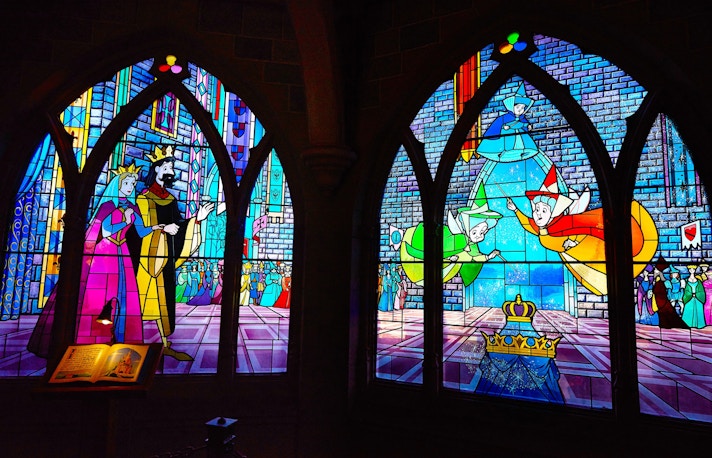 6. The Sleeping Beauty Castle's Painted Glass Was Created By A Veteran
The English stained-glass craftsman Paul Chapman was in his eighties when he oversaw the building of the windows for Princess Aurora's Castle. He had worked previously on the renovation of Notre Dame. Another amazing fact lies in the bed of Snow White. Snow White store can be found adjacent to the infamous Disneyland Paris castle. All the beds are neatly in rows there, as in a movie. But at the amusement park, they are loaded with treats, so go ahead and visit.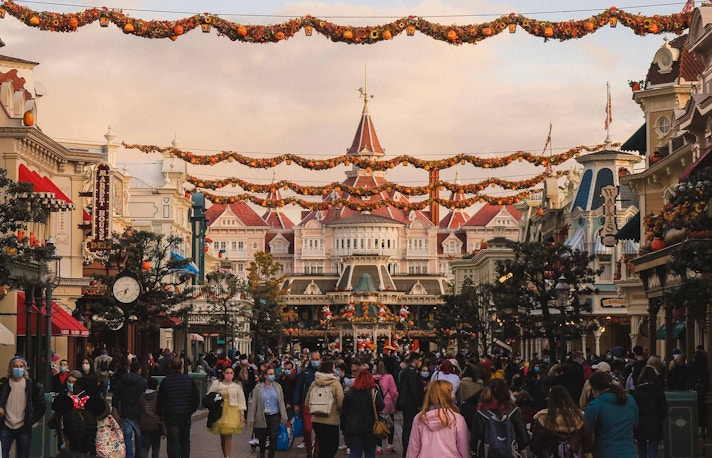 7. Main Street's Inhabitants Are Real
The idea and construction of Disneyland Paris owe a great deal to the contributions of several of Main Street's "tenants." On one of the storefront windows, Walt Disney along with his brother Roy is named as "Founders and Partners," while on another, Walt's longtime friend Martin Sklar is identified as the newspaper's editor.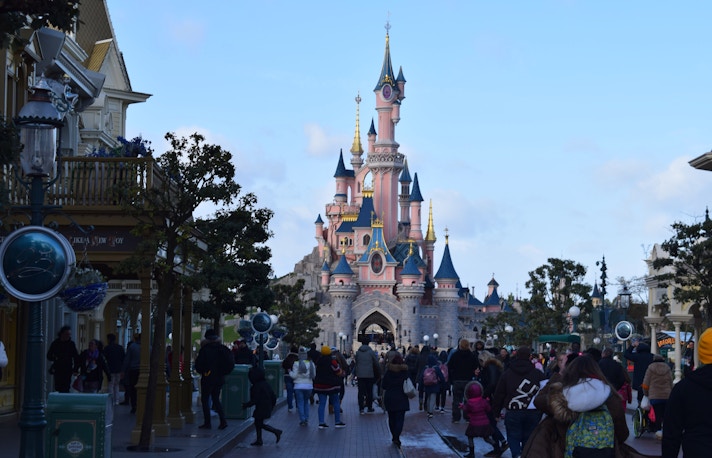 8. Forced Perspective Used On Main Street
Forced perspective is used on Main Street to give the impression of a bigger area. The castle is just a few metres away, yet it seems far away when you approach the park. This is because, as you go south on Main Roadway, the street itself widens due to the building facades. On the other way, the park's exit seems closer as you go down the road.
9. It's A Wild Party! Get Ready To Encounter Wild Animals In The Park
The various animals that wander free at Disneyland Paris are managed by the "Wildlife" department. There are a lot of wild rabbits in the park, for example, and once an employee uncovered a fox that had taken up residence within the ride, Peter Pan ride. Disneyland Paris is also home to a large number of stray cats. The cats are well-liked by the employees since they prevent vermin from anchoring themselves. For their part, people provide food and care for cats in shelters by bringing in new litter.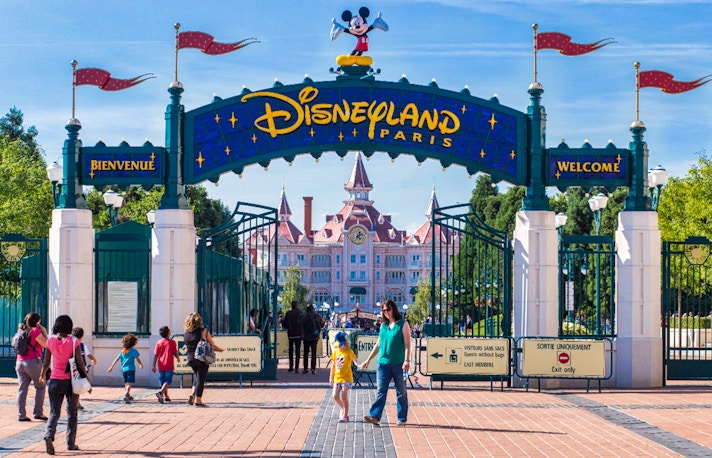 10. Blue And Pink Are The Predominant Colors In The Theme Park
One of the palace guards will change to pink while the other will turn blue if you snap a photo of them with a flash. Similarly, the raven statue's eyes will become red if you photograph it with a flash. Similarly, When you look at photographs of Disneyland Paris' castle, do you ever wonder how they manage to make it appear so good? That's due to how precisely it was constructed. This castle is more fairytale in appearance, being pink and brilliant. Furthermore, it was positioned so as to not be backlit.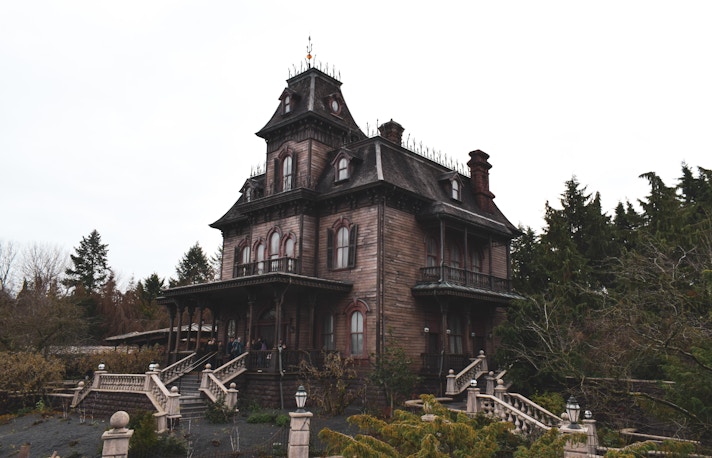 11. Keep an ear out for a beating heart in the cemetery.
At Disneyland Paris' Frontierland's Haunted Manor attraction, one of the massive graves really beats with the visitors' hearts. Find a big grave that seems to be made of marble in the cemetery just outside of Phantom Manor's front door. Its pulse should be audible if you put your ear close to it. It's one of the best-kept secrets in all of Disneyland Paris while being one of the creepiest. After all, you wouldn't know to seek it unless you already knew it existed.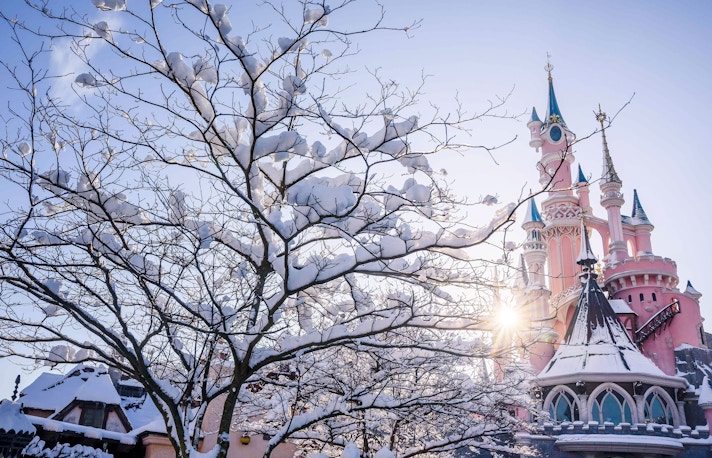 12. Disneyland Paris Wasn't Supposed To Be Built There
Disneyland Paris, although now a symbol of the French city, was not planned to be built there. In the beginning, Disney was looking for a European site with temperatures more like those found in Florida and California. However, Paris was chosen as the host city because it is just a two-hour flight from Central Europe.
Book Your Disneyland Paris Tickets
Frequently Asked Questions About Disneyland Paris Facts
Q. What is Disneyland Paris?
A. Located 32 kilometres east of Paris, near Chessy, France, lies the theme park Disneyland Paris. There are two amusement parks, a retail centre, restaurants, a golf course, 7 hotels and two Disney Nature Resorts.
Q. What are some fun facts about Disneyland Paris?
A. Some of the most fascinating fun facts about Disneyland Paris are that the original location of the theme park was not supposed to be in the French Capital, one can hear beating hearts in the cemetery in Disneyland Paris and one can even find wild animals running free occasionally inside the park.
Q. How old is Disneyland Paris?
A. Disneyland Paris came into being on the 12th of April, in the year 1992. This year marked the 30th anniversary of the theme park.
Q. How big is Disneyland Paris?
A. Disneyland Paris spans an area of 22.3 km².
Q. What can I see in Disneyland Paris?
A. Visitors to Disneyland Paris will be treated to a wide variety of exciting and picturesque attractions. Experience the summer of your fantasies to the fullest at Disneyland Paris's two theme parks: Walt Disney Studios and Disneyland Park. Walt Disney Studios feature attractions like Toon Studio, Production Courtyard, and more, whereas Disneyland Park has the infamous Adventureland, Fantasyland, and more.
Q. What is Disneyland Paris best known for?
A. Disneyland is best known for thrilling rides and attractions that are suitable for enthusiasts of all ages. It brings to life the magic in classic Disney tales and movies. Walt Disney Studios has now created experiences based on Pixar movies and the Marvel Cinematic Universe.
Q. How many rides and attractions are at Disneyland Paris?
A. Disneyland Paris has 50 attractions and rides in total for visitors to make the most out of their time.
Q. Is Disneyland Paris worth it?
A. Absolutely! Every member of the family or group of friends can expect to have a fantastic and exciting day at Disneyland.
More Reads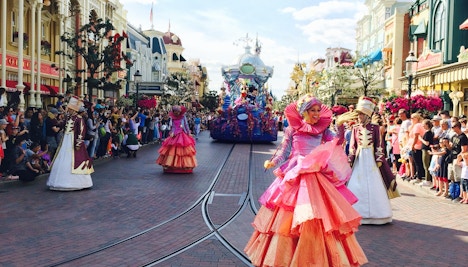 Inside Disneyland Paris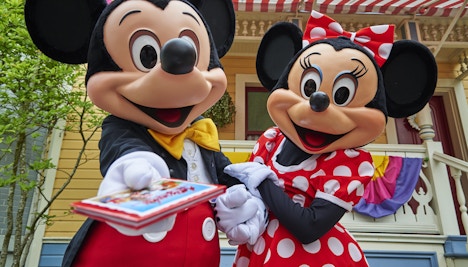 Plan Your Visit to Disneyland Paris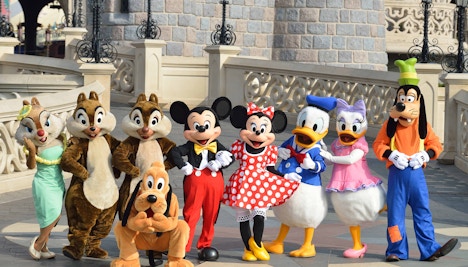 Disneyland Paris Characters