Contents
Built 80 years after the construction of the famous Notre Dame Cathedral, the Sainte Chapelle stands as an iconic landmark for Gothic style architecture. Though they both show exquisite representations of the Gothic era, traced back to the 13th Century, what makes Sainte Chappelle unique is without a doubt, its stunning stained glass windows.

King Louis IX put his heart and soul in creating this holy mansion that today invites about 900,000 visitors each year. Despite the fact that the site had to go through multiple extensive renovations, it has managed to preserve its structure and maintain its spiritual aura till date. Find out everything you need to know including its history, architecture, current visiting tips and more before you begin your magical experience.
Sainte Chapelle At A Glance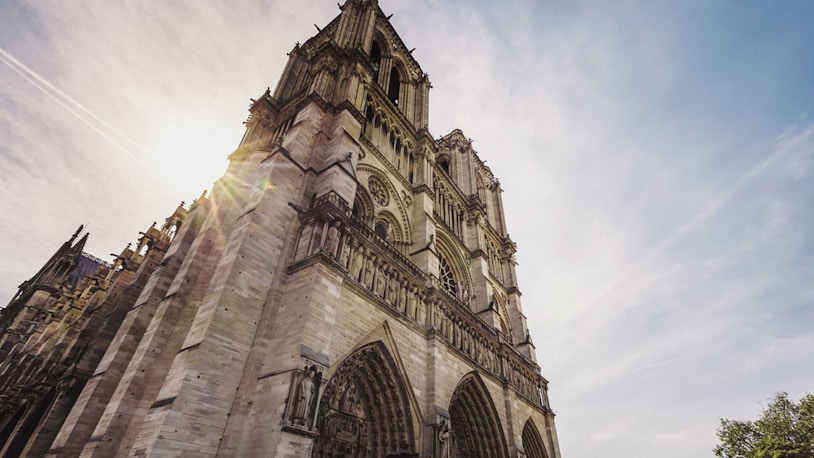 Sainte Chapelle comprises two chapels. The upper level was meant for the king, the royal family and the relics, whereas, the lower level was built for common people that worked at the royal palace.
Records state that King Louis IX spent a total of 235,000 Livres in purchasing the relics but the cost to build the Sainte Chappelle came up to just 40,000 Livres
With the stained glass windows being the main landmark of Sainte Chapelle architecture, it receives an average of 900,000 visitors every year
The upper chapel displays over 600 square meters of glass. Apart from that, there are 15 windows dated back to the 13th Century, making them the extensive collections of stained glass in the world.
Sainte Chapelle is built in the Gothic style of architecture and falls under the "Rayonnant" Gothic category.
Know More About Sainte Chapelle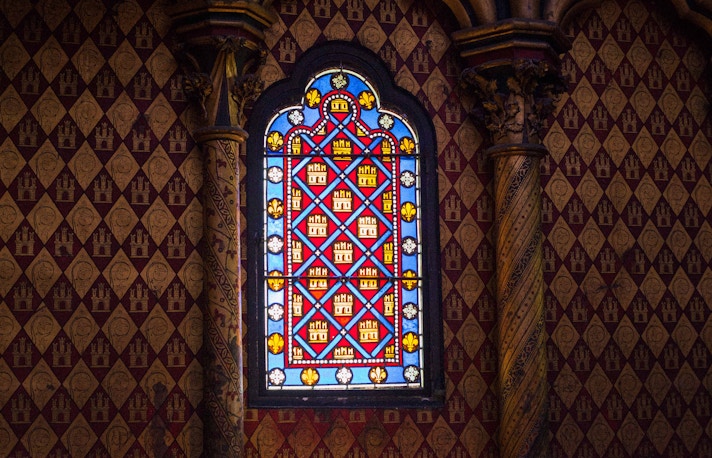 Sainte Chapelle History
The Sainte Chappelle's history can be traced back to the 13th Century when King Louis IX first bought the collection of relics. King Louis IX, who would later go on to become Saint Louis, knew that he needed to build a special space to store this collection. With this came the rise of Sainte Chapelle architecture which goes on to become one of the most spiritual landmarks in the world.
King Louis had collected about 22 holy relics. However, during the French Revolution most of these collections were destroyed by the Revolutionaries who saw the chapel as a symbol of royalty by the divine right. Fortunately, they managed to save some of the holy relics, which is well-preserved in the treasure of Notre Dame Cathedral today. As for the legendary stained-glass windows, they were left untouched.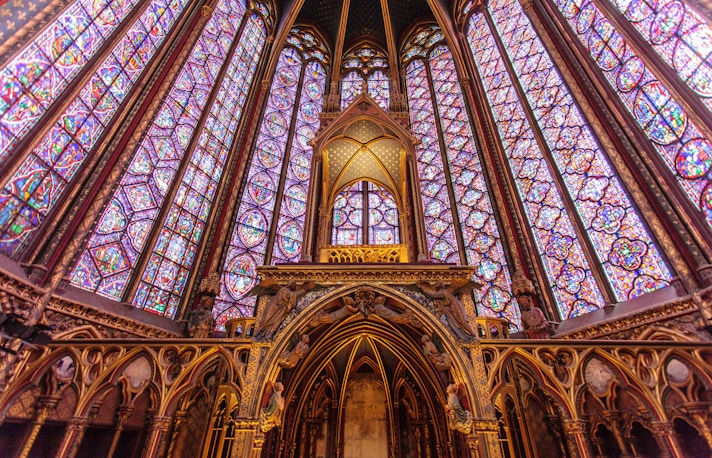 Sainte Chapelle Architecture
Sainte Chapelle's architecture is a classic example of the French Gothic style construction. It stands tall, alongside Notre Dame Cathedral and Chartres Cathedral, as one of the prominent sites for Gothic art. The Royonnant-themed chapel, featuring tall 15-meter high windows, is subdivided by bar tracery, also covered by pinnacles ornamented with crockets and crowns citing the first relic brought in the chapel by King Louis IX. As you enter the building you'll notice the chapel is located underneath a porch whose tympanum represents the coronation. 
The interior of Sainte Chapelle is considered a Gothic masterpiece of divinity, filled with richness and spirituality.  It's exceptional collection of stained glass windows elevates the chapel to a whole new level making it the empire of Chirstendom. Depicting 1,113 biblical narratives spread across 15 windows, this collection of stained-glass windows is one of the oldest and the most well-preserved, extensive works in the world. An experience wouldn't be complete without visiting the Apostles' statues, the great shrine, the vaults along with its rose windows installed in the 15th Century, taking you back in time reliving history once again.
Visitor Tips
Visitor Entry
Concerts & Mass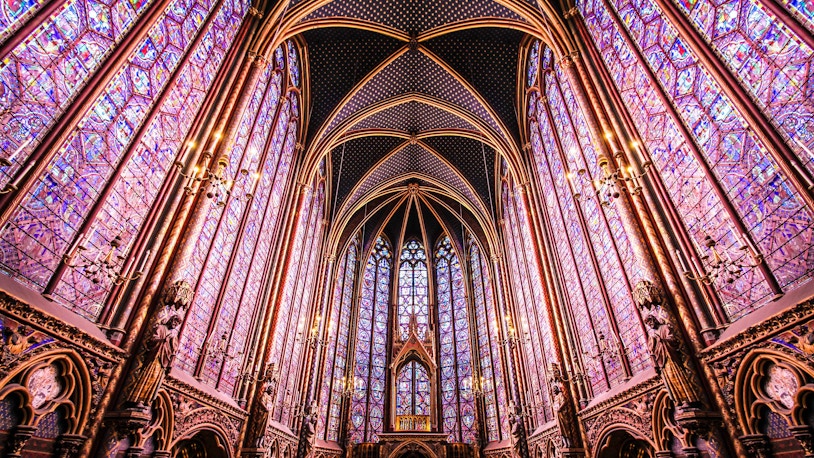 Sainte Chapelle is open daily from 9:00 AM - 5:00 PM. Last admission will be provided 40 minutes before the closing hour. The monument will be closed on 1 May, 25 December and 1 January.
Free admission will be provided to visitors under the age of 18, EU nationals between 18-25, job seekers (unemployment certificate to be provided) and disabled persons with their companions
In order to gain skip-the-line access, guests are advised to pre-book their tickets for the date and time of their choice
Priority access is only given to visitors with pre-booked tickets and a time-slot reservation
Audio guides are available in English, German, Italian, Spanish, Japanese for €3 which can be paid on-site
Storage facility is not available on-site. Please carry small backpacks or purses.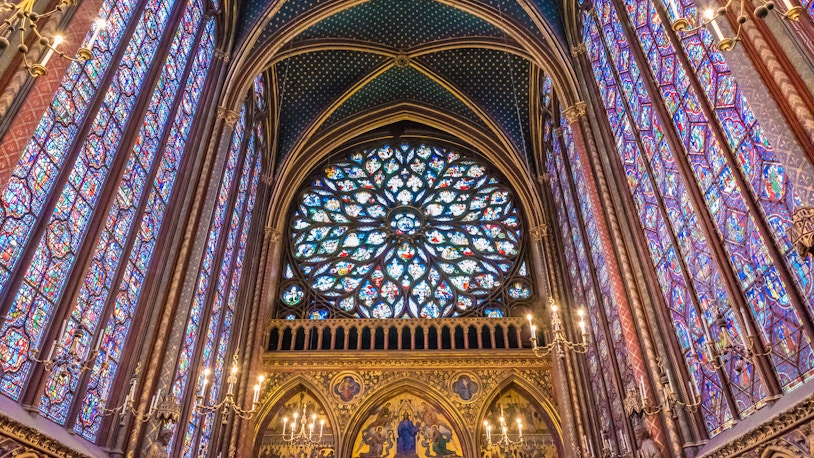 The concert of Euromusic Productions at the Sainte-Chapelle runs from 1 August to 31 December, 2020. Information regarding dates, programs, prices and seating are available online on their official website: Euromusic Productions
Timings will be updated as and when available.
Book Sainte Chapelle Tickets
Sainte Chapelle FAQs
When is the best time to visit Sainte Chapelle?
It is ideally recommended to make a visit during the early mornings or late evenings to avoid overcrowding at the venue.
What public safety measures are in place at Sainte Chapelle?
All guests must book their tickets online to prevent physical contact on site. Moreover, masks are mandatory and hand sanitizing gel has been made available for guests to use. Social distancing is also recommended and cash payments are not permitted anymore.
If an adult purchases a skip the line ticket, can minors accompany them to gain free access?
Yes, in fact entry is free for children below the age of 18 and for EU nationals between the age groups of 18-25, provided they show their valid photo ID.
Is Sainte Chapelle accessible for people with reduced mobility?
Yes, the lower chapel has a small ramp and the upper chapel where the main attraction is located has an elevator that can be used.
Can the tickets be cancelled or modified once purchased ?
Unfortunately, as these tickets are strictly timed and dated, they cannot be cancelled or changed once bought online.
Is there any specific dress code to be followed at Sainte Chapelle?
There is no dress code for Sainte Chapell. However, since it is a religious place visitors are expected to dress modestly.