What to Wear in Paris | Summer Clothes, Winter Dresses, Dress Code for Men and Women & More
Contents
It's essential to remember that Parisian fashion is tailored, stylish, and conservative with an edge when deciding what to wear in the City of Lights. Nearly all Parisians adore muted hues. In one effortless appearance, the classic French dress can carry you from brunch to work, school pick-up to birthday drinks. It consists of timeless classics that may be worn at any time, in any location, and for every occasion. Maintaining a relaxed appearance while radiating elegance and edge is your goal when donning Parisian style. In addition, the Parisian style also varies greatly depending on the weather and other practicalities. Read on to get a detailed dressing guide for your next Paris trip.
What to Wear in Paris in Summer
Women
Get your dresses ready. The most breathable fabrics in the heat include cotton, rayon, and linen. For a sophisticated, feminine fit, add a belt. Maxi dresses and summer dresses both work; it just depends on your personal style and inclination.
Don't forget to pack a lightweight jacket or small umbrella so that you are equipped for erratic weather. Save the museums for rainy days to get the most out of your trip.
To add a bit of color, accessorize with shades, a summer scarf, and elegant yet understated jewelry. Pick minimalist accessories that showcase your own personality and sense of taste.
Men
Loose clothes are the way to go in Parisian summer if comfort is a priority for you. Light and neutral-colored shirts or tee shirts paired with trousers should be enough for a sightseeing trip outdoors.
A light jacket must be with you through the summer in case the weather forecast is bad. An umbrella would also do. Loafers are the way to go when picking footwear for men in Paris.
Men do not need to accessorize heavily in Paris. However, scarves, hats, and shades are sort of a necessity in Paris in Summer.
What to Avoid Wearing in Paris in Summer
Shorts are almost never the way to go for men in Paris.
Avoid wearing suede if there is even a small chance of rain.
Clunky and loud accessorizing will make you stand out as a tourist in Paris.
Beach wear in the streets of Paris does not fit in well irrespective of the hot weather.
What to Wear in Paris in Winter
Women
Trenchcoats, heavy jackets, sweaters, and hooded clothing should dominate your winter dress code in Paris. The city feels much colder than what the weather apps suggest, so don't shy away from packing heavy if you are visiting Paris in the winter.
The best material for shoes is leather because it is cozy, strong, and frequently waterproof. However, materials made of imitation leather can serve a similar purpose. Choose boots with a heated inner made of wool if you want additional warmth.
Choose long scarves made of silk or cashmere in your preferred hue, a chic hat, and fingerless gloves. Black leather gloves can also look stylish.
Men
Heavy jackets, overcoats, trench coats, and sweaters are all necessary options you must go for in Paris in the winter. If possible, try to stay away from colors that are too loud so that despite the layers, you fit into the whole theme of Paris.
Snowy and rainy days are common in the winter in Paris, so be prepared to wear heavy boots that are made of waterproof material. Leather and faux leather are usually safe bets. 
Accessorizing in the winter can be used to your advantage in Paris if done well. A beret is a classic in Paris. It can also be used to protect yourself from the Parisian winter. Don't skimp on scarves and ear muffs on particularly cold days.
What to Wear in Paris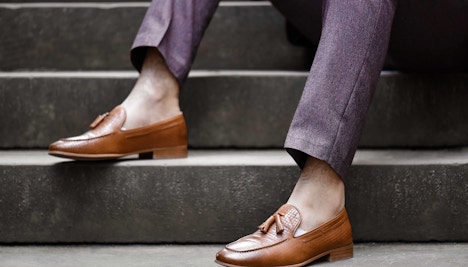 1. Loafers
Footwear is one thing that Parisians are known to be very flexible with. A classy loafer made of leather, faux leather, or suede, depending on the weather should be good for all occasions.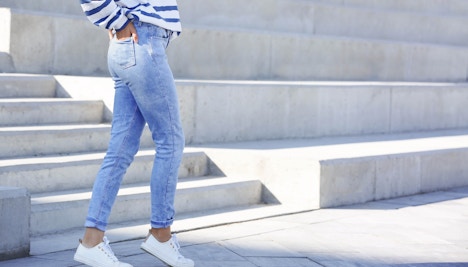 2. Jeans
Jeans in Paris can be worn with either flats or heels, a classy blazer, or a cozy knit. Denim should be uniform in color, unblemished, and free from fraying or rips.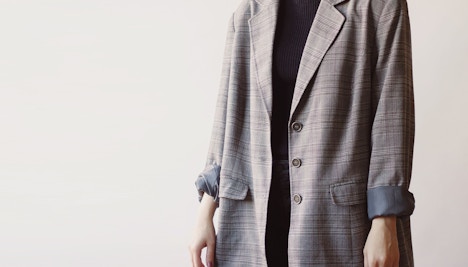 3. Oversized Blazer
Almost all classic Parisian outfits would involve blazers in some way or the other. Oversized blazers in a neutral color are a great thing to have to turn your outfit essentially Parisian.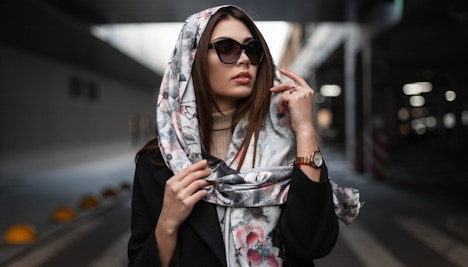 4. Silk Scarf
The silk scarf is a multipurpose accessory for a grown-up punch of color and can be used as a necktie, head covering, hair bow, or even wrapped around the handle of a bag.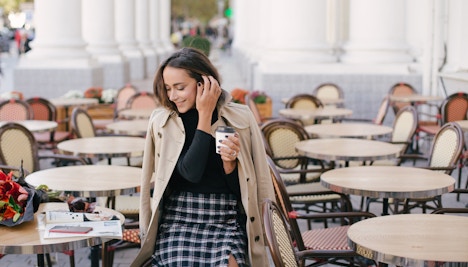 5. Trenchcoat
A timeless trench is a great choice because it works in every weather and is always stylish when traveling. Whether you choose a snug style or an oversized look, keep an eye out for neutral colors.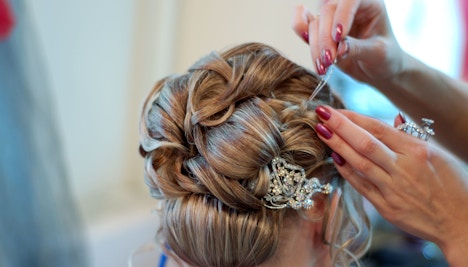 6. Hair Slides
The same care should be taken with your hair accessories as you would with the rest of your attire. Hairstyles in Paris are poised and clipped into place, not bunched into a scrunchie.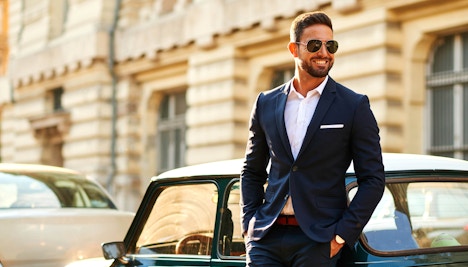 7. Relaxed-fit Suit
We frequently assume that wearing sweats and t-shirts while traveling is the only way to feel comfortable, but wearing a loose black suit can provide the same effect without making you appear to be another tourist.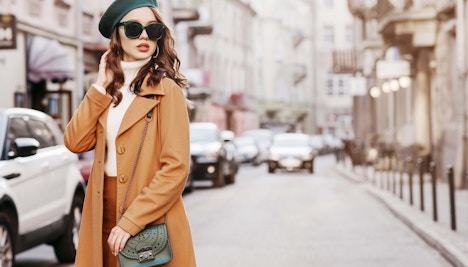 8. Minimalist Bags
A simple, useful purse is among the most crucial items you may bring. The bag should ideally zip or have a crossbody strap so that you may travel while looking stylish and keeping your belongings safe.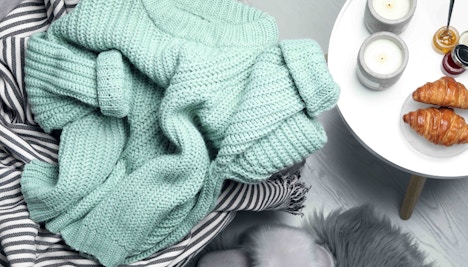 9. Cashmere Cardigan
A cashmere sweater will always be in style. In addition to being more wearable for daily use than harsh black, the navy also offers a hint of Riviera appeal that is less overt than a Breton stripe.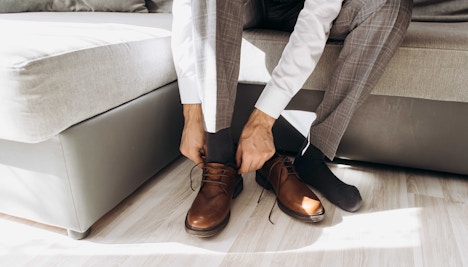 10. Dress Shoes
A nice pair of dress shoes is essential in France. They anchor the look whether worn with jeans or pants. You can always tell when someone has committed in their shoes by looking at a well-made dress shoe.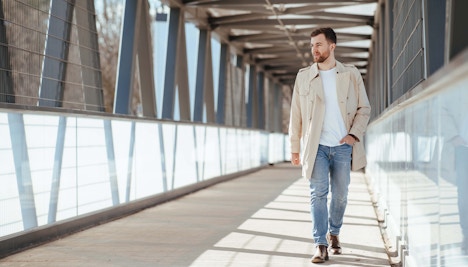 11. Chesterfield Coat
A formal, knee-length coat known as a chesterfield is typically constructed in a deeper color. A velvet collar is often included as an additional element. It really gets you into the Parisian mood.
12. Analog Watch
A sophisticated watch adds the final touch to any outfit. Wristbands for the daytime should be made of leather, preferably in black or brown, and be delicate without being overly lavish.
What to Wear While Traveling in Paris
Paris is a very well-known tourist destination with travelers pouring into the city throughout the year. This is why public transport is also usually crowded with locals and visitors alike. Here's how to dress when traveling in Paris:
Go for:
Casual clothing like jeans or a skirt and a shirt or top should be quite comfortable when using public transport. Try to dress according to the weather and season as well.
When taking private transport, you can dress according to your destination or the kind of activity you are planning.
Avoid This:
Don't wear overly fancy clothes if you are using public transport. Avoid wearing expensive accessories as well.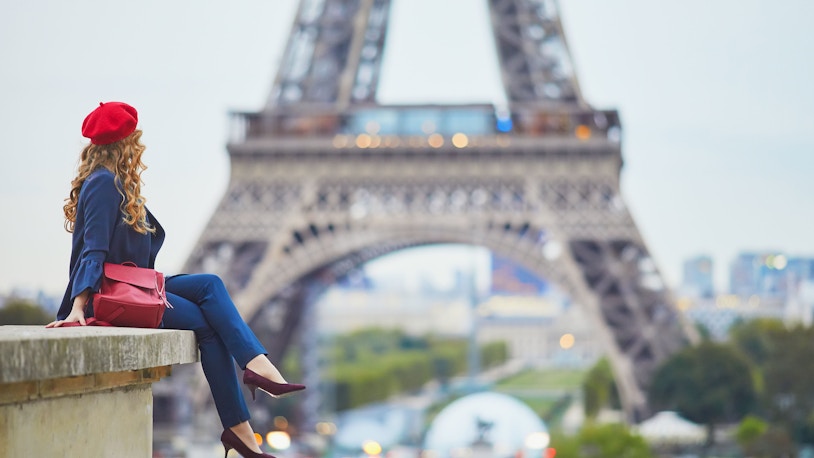 What to Wear While Shopping in Paris
Paris is a shoppers' paradise and there are a wide variety of places you can go to get your favorite clothes, accessories, and housewares. Like most others, you would want to look good while shopping around in Paris. This guide should be helpful for you:
Go for:
Dressing like a Parisian when shopping can be helpful. Depending on the weather, try to incorporate classic elements like berets and loafers.
Go for neutral colors and sophisticated styling. Incorporate a bag to carry your documents, wallets, and other objects in your attire.
Avoid This:
Don't accessorize extravagantly because many of the places you will visit during shopping will be crowded and it might not be as safe.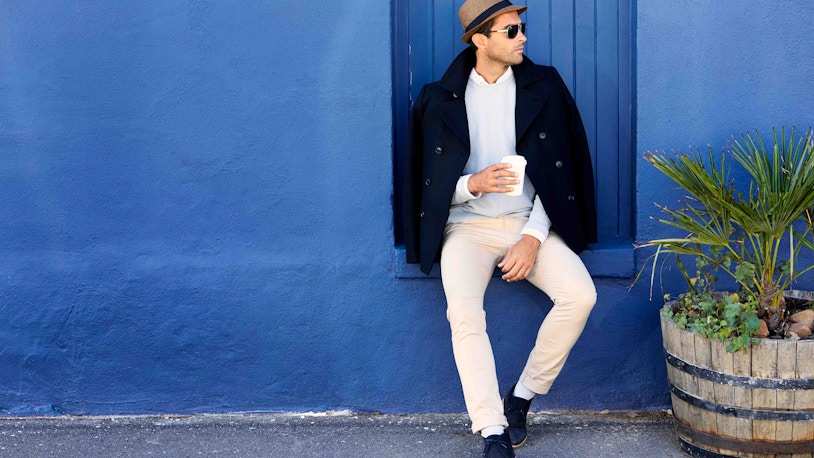 What to Wear on a River Cruise in Paris
The Seine River Cruise in Paris is a premier attraction in the city. It is a must-experience almost every month of the year as it lets you experience Paris from a unique perspective. Here's how you should dress when going for a river cruise:
Go for:
 You may have to account for the cold breeze on the river if you are going for a ride in any season other than the summer. Put on a scarf, you will need it.
Stick to semi-casual attire for the river cruise, Chinos, skirts, camisoles, and shirts are all good as long as you have a light jacket or cardigan handy.
Avoid This:
Don't be too decked up for a river cruise. Remember that this is a sightseeing trip and you won't enjoy it if you aren't comfortable.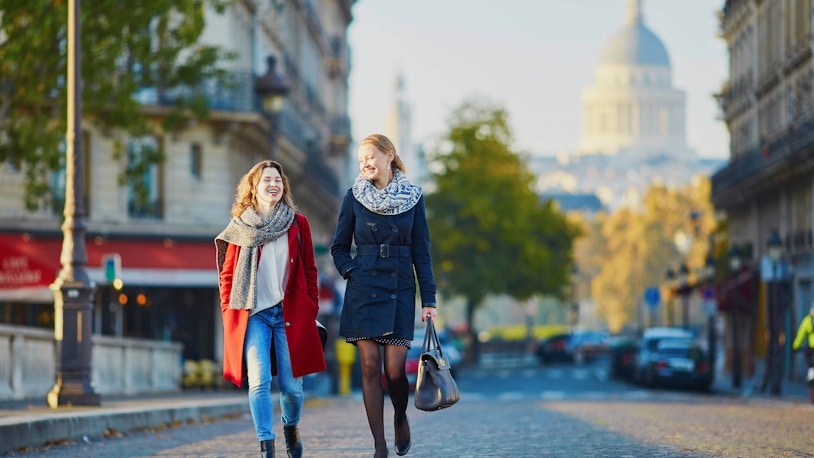 What to Wear at Museums in Paris
The most famous museums in the world, including The Louvre, The Orsay Museum, and The Orangerie Museum, are all located in Paris. The museums of Paris attract a global audience, and here's what you should dress to stand out during your visit:
Go for:
A classy Parisian look would be the best way to go to the museums. Overcoats, blazers, dresses, and suits are all great options.
Dress shoes, ballerinas, loafers, heels, and wedges should be the preferred footwear. Keep the comfort in mind too.
Avoid This:
If it's a museum with a large floor area, do not wear uncomfortable footwear or clothing that restricts movement.
Top Musuems in Paris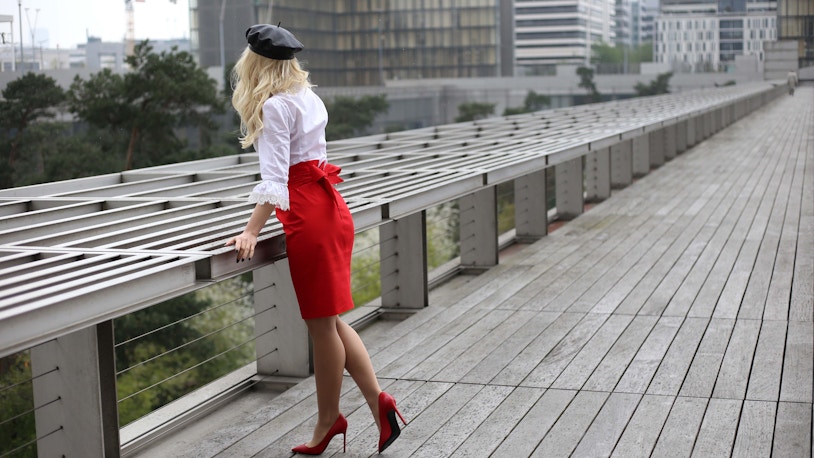 What to Wear to Pubs, Bars, and Cabaret shows in Paris
Paris has a very lively entertainment and nightlife scene. On your trip to Paris, you must reserve a day to explore this facet of the City of Lights. Parisian pubs, nightclubs, and cabaret venues have their own dress code. Here's what you need to know:
Go for:
It is ideal to wear skirts, tights, blouses, chinos, t-shirts, or jackets with either boots, loafers, or heels. Choose a semi-formal dress if you're ever unclear about what might be permitted.
For cabaret shows, semi-formal attire is generally expected. Jackets and overcoats are a good way of dealing with a chilly venue.
Avoid This:
As a rule, try to avoid wearing jeans, especially ones that are light in color. You should also avoid dressing up in fancy clothes if it's a night of partying is what you are looking for.
Top Cabrets in Paris
Frequently Asked Questions About What to Wear in Paris
What should tourists not wear in Paris?
Graphic tees, shorts that are either too long or too short, flip flops, sweat pants, and sportswear are not good things to wear in Paris.
What do you wear in Paris not to look like a tourist?
Leave out fanny packs, white socks, sneakers, big colored bags, and baseball caps from your attire if you don't want to appear like a tourist.
How should I dress to fit into Paris?
Choose leather shoes, basic shirts without logos, and black slim pants. You will seem really French if you add a scarf on the top.
Are jeans appropriate in Paris?
If the jeans are neatly cut, dark, and discreet, you can wear them, but not at night or with a t-shirt and sneakers because you'd look too casual.
Can I wear sneakers in Paris?
One pair of shoes that every French woman should own is a pair of sneakers or trainers. You may have noticed that wearing painful high heels is not particularly "French" if you have already visited Paris.
What is the fashion style in Paris?
The Parisian aesthetic combines simplicity and comfort with grace and beauty. Parisians think that even when wearing everyday clothes, you may still have a great sense of personal style.
What are the best things to wear in Paris in Summer?
The best things to wear in Paris in the summer are chinos, shirts, shorts, camisoles, skirts, hats, shades, and loafers.
What are the best things to wear in Paris in Winter?
The best things to wear in Paris in the winter are jackets, blazers, overcoats, berets, boots, and shades.
What are the top things to wear in Paris?
The top things to wear in Paris are berets, shades, blazers, shirts, dresses, trenchcoats, loafers, and boots.
What should men avoid wearing in Paris?
Men must not wear extremely short shorts, chunky sports shoes, sweatpants, graphic tees, and clothes with bright and bold words on them when in Paris.
What should women avoid wearing in Paris?
Women should avoid wearing stilettos, brightly colored dresses, clunky accessories, and beachwear when in Paris.