 10 Must-See Orsay Museum Paintings in Paris | Van Gogh, Monet, & More
A train station turned fine art museum, the Orsay Museum is known for its vast collection of original works by artists like Vincent Van Gogh, Claude Monet, Edgar Degas, Gustave Moreau, Edouard Manet, Pissarro, Renoir, Henri Matisse, Cezanne, and many more. It's a treasure trove of over 3,000 Realist, Impressionist, Post-Impressionist, and other 19th-century art created by some of the best artists the world has ever seen. Some of the most famous artworks include The Starry Night, Galatea, The Luncheon on the Grass, Olympia, The Absinthe Drinker, The Artist's Studio, The Tub, and Girls at the Piano. Find all you need to know about the best and must-see Orsay museum paintings right here.
Overview of the Orsay Museum Paintings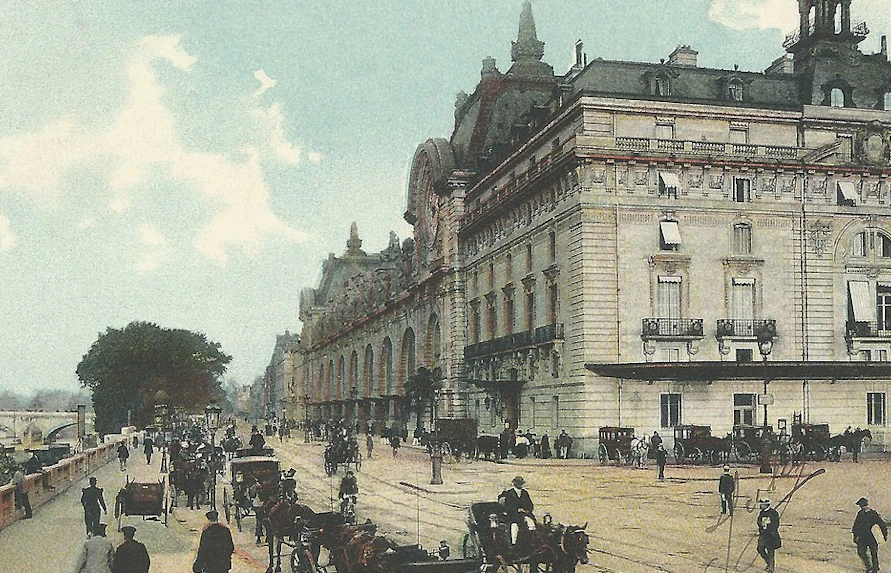 History of the Orsay Museum Paintings
The Orsay Museum is housed in a former railway station located on the left bank of the Seine River opposite the Tuileries Gardens. From paintings and sculptures to photography and decorative arts, the place predominantly features works of French artists from 1848 to 1914. The collection of Orsay Museum paintings mostly consists of donations and acquisitions made by the Louvre, Musée du Luxembourg, Jeu de Paume, and the National Museum of Modern Art. It includes the works of 19th-century French artists as well as contemporary foreign schools that were acquired for Musée du Luxembourg.
Know More Acquisition of the Collection
The decision to turn the railway station into a world-class fine art museum was taken at a time when most institutions - the National Museum of Modern Art, the Louvre, and Jeu de Paume museum - ran out of exhibition space. An acquisition policy was set up in 1978 to strengthen and properly represent this rich, historic collection of paintings from 1848 to 1914. 
The museum also put in place a system to pay from the outset making it easier for painters to enter its collection over the years. It also made provision for Swiss paintings to enrich its collection of artworks by foreign artists. Most importantly, donations, gifts, and bequests continue to be the main sources through which the museum updates or evolves its collection. Impressionism Paintings
The Orsay paintings are a celebration of Impressionist, Post-Impressionist, and other 19th-century art. All the greatest names of the Impressionist movement find representation at the Orsay Museum. Impressionism paintings portray the impression of what the eye sees or witnesses at that moment. Impressionist artists tend to choose landscapes or urban life scenes as their subjects.
The collection includes paintings by artists like Alfred Sisley, Claude Monet, Auguste Renoir, Vincent Van Gogh, Berthe Morisot, Paul Cezanne, Paul Gauguin, Georges Seurat, and Edgar Degas to name a few. The museum is famous for its vast collection of impressionist paintings.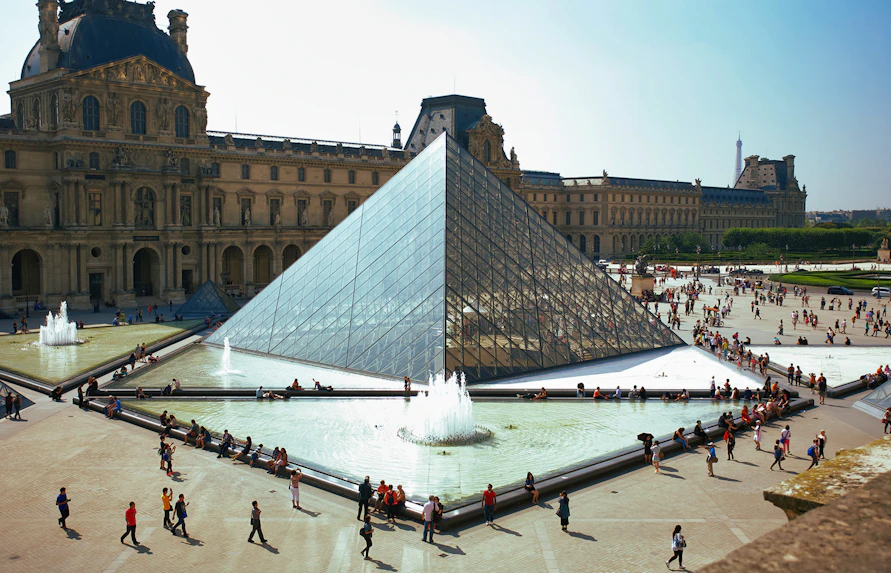 Role of the Louvre Museum
The Musée du Luxembourg was often criticized for being more of a museum of living artists than a space for modern art. After much deliberation, the State decided to build a museum for modern art at the Palais de Tokyo. The collection and works of foreign schools exhibited at the Musée du Luxembourg and Jeu de Paume respectively was, eventually, transferred to the museum at Palais de Tokyo in 1938.
The Luxembourg Museum eventually shut down and Jeu de Paume came under the control of the Germans. Jean Cassou, the curator of the National Museum of Modern Art, was dismissed from his post only to return as its chief curator in 1945 and reopen the space a couple of years later. Meanwhile, the Impressionist and Post-Impressionist artworks, which were on display at the Louvre, were transferred to Jeu de Paume. The space became a gallery dependent on the Louvre.
More about the Louvre
10 Must-See Orsay Museum Paintings
The Orsay Museum houses over 3,000 paintings, all of which are worth looking at. However, here's a list of 10 must-see paintings on your visit.
A Burial at Ornans
Gustave Courbet
1849
A pioneer in French Realism, Gustave Courbet chose to create a socially aware piece that put the poor and underprivileged peasant class at the forefront. A Burial At Ornans put the spotlight on the poor and backward sections of the society while addressing the growing secularism in France in the 19th century. The clergymen are portrayed as crude beings with their backs against Christ, who himself seems to have been ignored by the bereaved people. A Ball at the Moulin de la Galette
Pierre-Auguste Renoir
1876
This Orsay Museum painting by Pierre-Auguste Renoir captures the thriving café culture of Paris in the 1870s. The capital not only transformed a dirty town into a modern, well-equipped city but also became a hub for writers, artists, and the wealthy class to dance, drink and enjoy to the fullest. Renoir's Bal du Moulin de la Galette captures this very essence and spirit of the city. Dinner at the Ball
Edgar Degas
1879
Dinner At The Ball offers a social commentary on the bourgeois status quo. This Impressionist painting uses a blurring technique to highlight the instability that exists in this materialistic and opulent world. Degas uses vibrant colors to highlight the suits, dresses, chandeliers, and other decorations but doesn't put a face to the human figures in the painting. It seems to be his way to tell the world to not give up their identity for wealth and luxury. Blue Water Lilies
Claude Monet
1916
Monet was very much inspired by the Nymphaea, the botanical name for waterlilies. The painting solely focuses on the pond and the white water lilies in it. He had built a water garden at his property in Giverny where he grew these flowers, which eventually became his source of inspiration for the painting. There's no proper frame or border, horizon, sky, or any particular detail visible, which is why the painting gives out an abstract and infinite feeling. The composition is also very neutral, with free yet strong brush strokes. The Luncheon on the Grass
Edouard Manet
1863
This is one of the most stunning Orsay Museum paintings.Manet was known to be a controversial figure in the world of art. Le Déjeuner Sur l'Herbe(Luncheon on the Grass) was one of his first paintings that created controversy when it was exhibited in 1863. Manet took classical reference from Judgment of Paris and then added quite a bit of boldness with a nude woman sitting amongst fully clothed men. There's no depth or perspective in the painting. The colors and strokes are also irregular.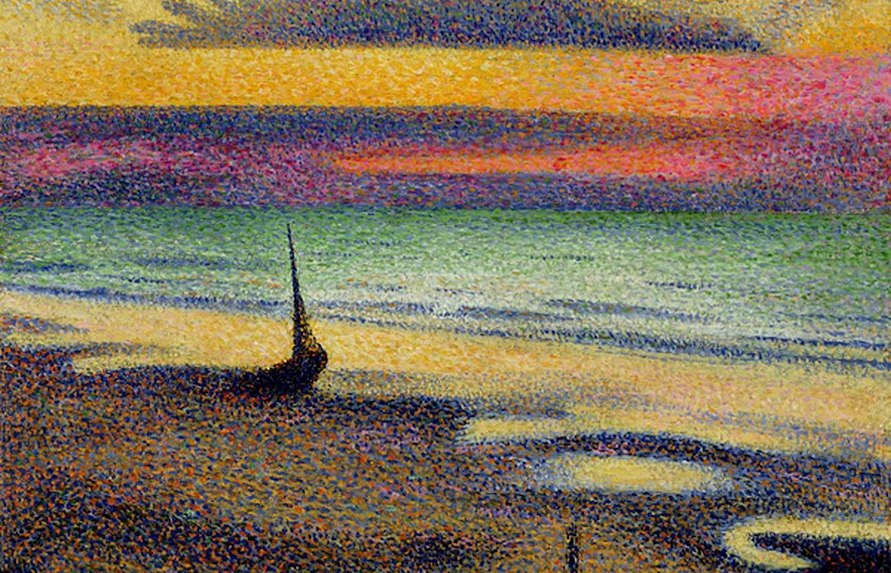 The Beach at Heist
Georges Lemmen
1891
The Beach At Heist is a remarkable example of the art nouveau style, and original technique Georges Lemmen developed under the influence of Henri Van de Velde and applied mostly to landscapes and portraits. He was also a pointillism enthusiast and used Neo-Impressionist techniques and elements in his paintings. The round or oval dots are separated by complementary colors while the bluish cloud seems to take over the sky. The boat, painted in purple against a sunset highlighted in yellow and orange, seems to be the only sign of human life that exists in this landscape.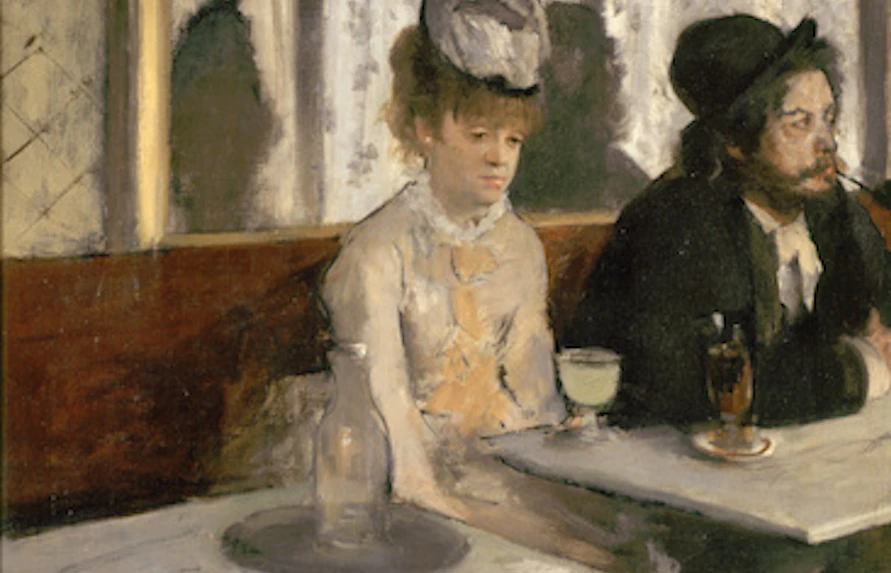 The Absinthe Drinker
Edgar Degas
1875-76
Originally known as, In a Café, The Absinthe Drinker caused quite a huge stir when exhibited at London's Grafton Gallery. This classic oil painting came across as a little too modern - a possible sex worker and her sidekick drinking Absinthe (an extremely strong alcoholic beverage) were considered a violation of Victorian morals. The composition is quite powerful with the main subject in the off-center and a blank space in the foreground. The color tones are balanced throughout the canvas. The Circus
Georges Seurat
1890-91
This Orsay Museum painting was the last Neo-Impressionist artwork by Georges Seurat. It remained unfinished because Seurat died in March 1891. Circuses were a huge source of entertainment in France back in the 19th century. The performers and the daring acts executed by them inspired several Impressionist artists. Seurat was one of them. The painting depicts one of the most popular circuses in France - Cirque Fernando. It's quite an expressive piece of art with dashes of red, blue, and yellow. It also depicts a lot of movement with the clown leaping, the bareback rider performing acrobatics, and the curtain moving in a giddy manner.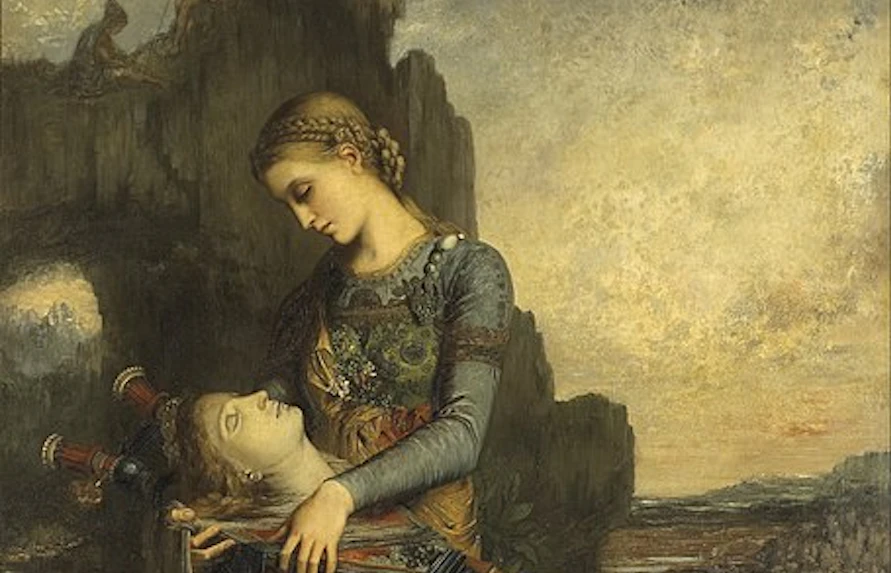 Orpheus
Gustave Moreau
1865
Orpheus, it is said in Greek mythology, was such a skilled and charming musician and poet that he could work his magic on wild beasts, trees, and rocks as well. Unfortunately, he charmed the Maenads, who, in turn, tore him into pieces for refusing his advances. Gustave, a pioneer of the Symbolist movement, reinvents the myth by creating a dreamy scene where a young woman recovers Orpheus' head, which has now intermingled with his music. Gustave was known to use provocative imagery in his works - severed heads, otherworldly men, and menacing femme fatale.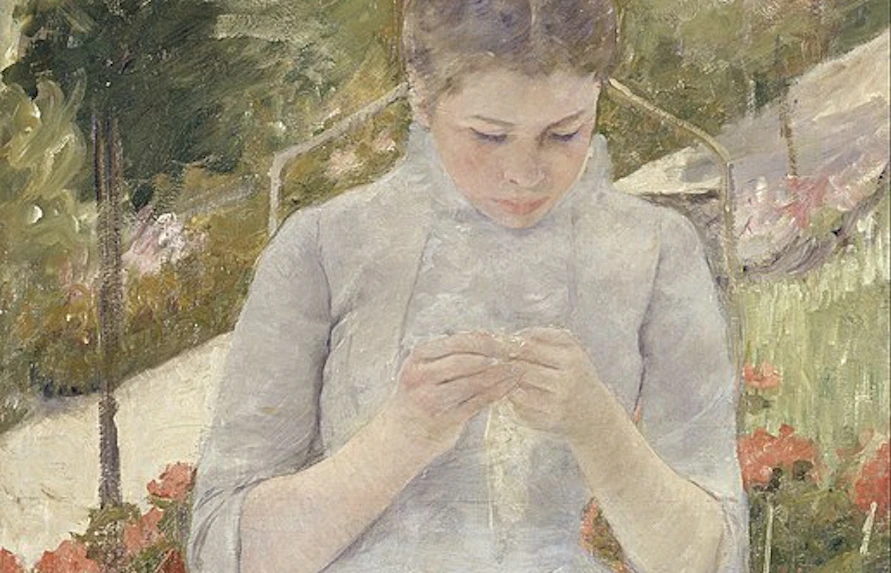 Girl in the Garden
Mary Cassatt 
1882
American Impressionist painter and good friend of Degas, Mary Cassatt uses a light palette in her artworks. She mostly depicts her close friends and family (usually portraits of women and children) in the privacy of their daily lives in her work. Also called Woman Sewing, Jeune Fille au Jardin or Girl in the Garden is one of the most beautiful and lively Orsay paintings. The outdoor setting with a colorful background and a broad, diagonal path lends depth to the painting. The young woman's firm outline and features show that the artist cared about proper drawing.
Vincent Van Gogh | Orsay Museum Vincent Van Gogh was a Dutch artist who created over 2,100 artworks, including 900 oil paintings, in his decade-long career. He is considered to be one of the greatest and most influential Post-Impressionist painters in the history of Western art. He created and left behind a vast body of work despite such a short career. 
His paintings revolve around landscapes, portraits, and still life. He developed a style that could be identified by the use of bold colors, contours, and dramatic and expressive brushwork. Even though he wasn't a commercially successful painter and sold only one artwork in his life, his style of painting majorly contributed to establishing the foundation of modern art. Some of his most famous pieces include The Starry Night, Portrait of the Artist, Van Gogh's Bedroom at Arles, Starry Night Over the Rhone, The Potato Eaters, and Portrait of Dr. Gachet. All of these find a place of pride at the Musee d'Orsay along with a few others like Dance Hall in Arles, La Méridienne, Fritillaires Couronne Impériale, L'Arlésienne and Eugène Boch.
Sadly enough, Van Gogh suffered from depression and poverty. He eventually died by suicide at the age of 37
Paintings by Vincent Van Gogh | Orsay Museum
Each painting by Van Gogh is a masterpiece. If you're visiting the Orsay Museum, here's a list of some of the best paintings that are worth looking at. Portrait of the Artist
Van Gogh painted several portraits of himself from 1886 to 1889. This one is an iconic painting exhibited at the Orsay Museum. His self-portraits depict his journey, emotional turmoil, and discomfort with himself and his surroundings. The patterns in this 1887 painting are similar to The Starry Night indicating some sort of turmoil or turbulence. He has merged Impressionist influences with Japanese woodblock art to add a sense of fluidity to the painting.
He also created self-portraits because he didn't have money to pay for models. Art supplies were expensive enough. This one follows his declining mental health. It's not just experimenting with his art. It seems more like Van Gogh's attempt to understand himself.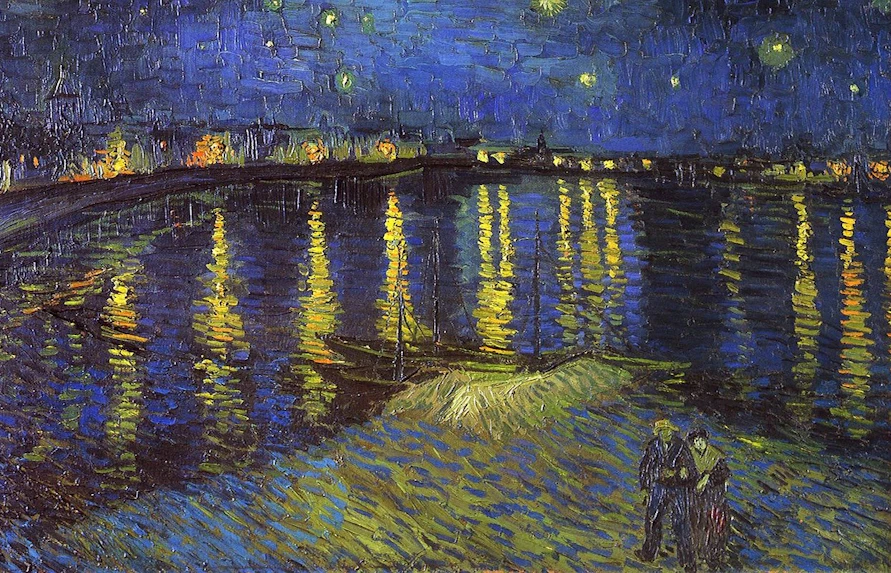 The Starry Night
Probably one of the most celebrated Van Gogh and Orsay Museum paintings, The Starry Night is an abstract, oil on canvas painting created by the Dutchman in 1889. It depicts a swirling or rippling night sky accentuated with the yellow crescent moon and light of stars.
He painted the view he saw just before sunrise from his room at the Saint-Paul-de-Mausole asylum in the French town of Saint-Rémy-de-Provence, which also finds a place in the painting offering a sense of calm amidst the turbulence. The Dutch painter spent about a year in the asylum after he cut off a part of his ear with a razor following a mental breakdown. Roses and Anemones
Before leaving the asylum in Saint-Rémy-de-Provence in 1890, Van Gogh created a series of still life paintings depicting cut flowers including Roses and Anemones, which exudes a very distorted yet calm feeling.
He painted several images of flowers in vases during his stay at Dr. Paul Gachet's (his homeopathic physician who took care of him in his final days) house in Auvers Sur Oise. He had also written to his brother about how the house was full of art, beautiful gardens, and flowers that he could use to compose still life paintings. In the Garden of Doctor Paul Gachet
This Orsay Museum painting was painted by Van Gogh in 1890 in the garden of his physician and art enthusiast Dr. Gachet. The Dutch artist found peace and happiness in gardens, whether it was his father's garden in the Netherlands, his own in London, the one at Arles Hospital or the one at Dr. Gachet's house in Auvers.
His choice of colors and floral motifs depended on his mood. If he was in a good mood, he would use bright colors. If not, then dark spiky flowers or silvery, glossy leaves. Van Gogh would also discuss gardening ideas with his siblings and advise them to grow their own garden. The Meridian
Inspired by French painter Jean-François Millet's Noonday Rest, this painting was also created while Van Gogh was in the asylum. He considered Millet to be "a more modern painter than Manet". In The Meridian, he has stuck to the original composition but also added his own style with regard to technique, color, and perspective. The painting, even though it radiates a calm and peaceful vibe, is a testament to Van Gogh's signature artistic intensity. Cows in a Meadow
This Orsay Museum painting was created by Van Gogh in 1883. The artwork boasts of an earthy and dark color palette, possibly suggestive of the mood the artist was in while painting the piece. Cows In A Meadow was also an attempt by Van Gogh to reflect reality and empathy in his art.
Visitor Tips
If you're planning a visit to the Musee d'Orsay, these handy visitor tips should help:
Book your tickets online in advance and get yourself a time-stamped ticket. Don't forget to wear your mask.
The best way to get around a museum as large as the Orsay Museum is to book a guided tour.
There are separate entrances for individuals, school groups, adult groups, and those with priority tickets. Make sure you choose the right line or you can also purchase skip-the-line tickets to get inside sooner.
Check out the temporary exhibitions and special events organized by the museum daily.
Read up about the museum, the paintings on display, and the artists before your visit.
Enjoy breathtaking views of the Seine River and the city from the museum's Summer Terrace.
Make sure you take out at least 3-4 hours to explore the paintings and the special exhibits.
The museum houses a cafe and a fine dining restaurant. There are also several cafes and restaurants you can explore nearby.
Make sure you choose the right time to visit so that you can avoid the crowd. Visiting before noon is a good idea. Late afternoon or early evening on Wednesday and Friday or a visit to the museum on Thursday after 6 PM also works. Plan a visit during the low tourist season, which is from November to March.
Visit the Orsay Museum Today
Tickets to Musee de L'Orangerie and Musee d'Orsay
More Details +
Combo: Orsay Museum + Seine River Cruise Tickets
More Details +
Combo: Louvre Museum + Orsay Museum Tickets
More Details +
Combo: Palace of Versailles + Orsay Museum Tickets
More Details +
Combo: Eiffel Tower Summit Tour + Orsay Museum Tickets
More Details +
Frequently Asked Questions About Orsay Museum Paintings
Q. How many Orsay Museum paintings are there?
A. There are about 3,000 paintings on display at the museum at any given time.
Q. How much does it cost to see the Orsay Museum paintings?
Q. What are some of the most famous Orsay Museum paintings?
A. Some of the most famous paintings include The Starry Night, Olympia, The Artist's Studio, L'Angélus, Le Déjeuner Sur l'Herbe, Portrait of the Artist, Portrait of Dr. Gachet, London, Houses of Parliament, and many more.
Q. Who are the Orsay Museum paintings by?
A. The Orsay Museum paintings have been created by some of the greatest artists the world has ever seen like Vincent Van Gogh, Claude Monet, Edouard Manet, Georges Lemmen, Paul Cezanne, Edgar Degas, Gustave Moreau, Pissarro, Renoir, and Henri Matisse, among others.
Q. Are there any Vincent Van Gogh paintings at the Orsay Museum?
A. Yes. There are about 24 Vincent Van Gogh paintings at the Orsay Museum.
Q. Should I go on a guided tour to see the Orsay Museum paintings?
A. Yes. You should. The best way to get around the museum and explore more in a short time is through guided tours. They are led by an art expert, who can help you gain more knowledge about the rich history of the museum and its artists.
Q. How long do I need to see all the Orsay Museum paintings?
A. You should put aside at least 3-4 hours if you really want to enjoy the museum and see all the paintings there.
Q. Are there any temporary Orsay Museum paintings?
Q. Are the Orsay Museum paintings worth a visit?
A. If you are an art enthusiast, then yes. The museum houses the largest collection of Impressionist artworks in the world. They are definitely worth a visit.